Reservation sites leave restaurants hot and cold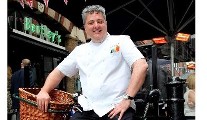 Friday 27 November 2015
Twenty years ago, if a fella opened a restaurant, all he basically had to worry about was providing his customers with good food and service.
He would probably have got premises at a fair rent; he would mainly have just had his costs and a bit of marketing. Nowadays, it's a horse of a different colour; there are a hundred different angles for him to cope with, including enormous rents (if he can get a premises because so many are snaffled by the 'big boy backers' with multiple eateries), social media, and a much more widely travelled diner with very high expectations.
The internet opened up restaurants to the public gaze in good ways and bad like never before. It's almost like 'reality restaurant' online. You can see inside, view images of food with its best foot forward, all you're short of are the cooking smells! However, if a customer visits the restaurant on the basis of this internet viewing and doesn't have a 'superb' experience, boy oh boy, do they let loose for the world to read.
The problem with many unmonitored online reviews is they can be fake or malicious, put up by rival restaurants or overly-vengeful diners. If they are too gushing, we can guess where they come from too.
Everything in our world is now dealt with online. We've become familiar with the likes of Booking.com for hotels, but do the hotels really like them? I was 'told off' by a hotelier in France over the commission they'd pay on my reservation. It was fairly clear we were second-class citizens and would get the worst room in the house.
The restaurant industry, in Dublin particularly, is booming, which is why the same booking concept has now arrived in Ireland.
OpenTable.com is the biggest restaurant reservation portal in the world, but there are pros and cons to it, with some restaurants very opposed.
Our smartphones are now an extension of our arms, we can browse anywhere in the world for any type of cuisine, find an OpenTable member restaurant, and book straightaway. This is very convenient for the diner; however, for the restaurant, the monthly membership fee and ongoing booking commission payable to OpenTable appears to be very high.
Adrian Cummins, Chief Executive of the Restaurant Association of Ireland, says: "The more booking services that come into the country, the better. They have an international audience in that they are an international brand, so they drive a lot of business through their system. The problem that a lot of restaurateurs would have is that the cost of using them (€199 per month plus €2 per diner, if booked through the OpenTable website) is way higher than some of the conventional online systems at the moment."
Celebrity chef Richard Corrigan, who has two restaurants in London, agrees it's all change on the restaurant scene big time.
"The internet now allows you reach 60/100,000 punters in London. Some years ago, Anthony Bourdain, AA Gill and I were sitting around a table, and Anthony said, 'If you don't have anyone looking after your IT, you're nuts.' I thought about it and he was right. I now have an IT whizz kid in my company. I'm on OpenTable. I was on a British version called Top Table, before it was bought out by them.
"However, I negotiated everything personally, very, very hard and no way did I ever pay the top rate to OpenTable.
"I looked recently at what I've paid and I'm even shocked by that. By the way, it's not just OpenTable, there are other reservation systems. It's another slice out of the dwindling pie. But, it's like American Express, we all hate it but how many people really ban it? It's just that the control is moving away from me now and into other people's hands."
Richard also says that the effects TV appearances have on a restaurant business is not the same.
"I didn't do TV until I was 40 and now I'm 50 I'm finished with it. At 40, I thought TV was very important to get my restaurants out there. That's changed too and, to be frank, I'm not sure TV is good for your business anymore. It depends on what customers you want for your restaurant. If you want 'bridge-and-tunnel' for your restaurant, keep doing TV, but if you want someone with a brain who appreciates what you're doing, do very little TV!
"At the end of the day, I'm a farmer's boy and I know how hard it is to make a crust, but all our customers are online and that's where everything seems to be now.
"I've always invested heavily in IT for my company, facial recognition, reservations, and so on, and I'm glad I did."
Muriel Thornton of Thornton's Restaurant says that OpenTable approached them a couple of years ago and they didn't go with them at the time. "In 2014, our manager said we should revisit this because people like to book instantly. We then went with Bookatable.com, an English company. They're a lot more favourable in terms of costs, charging €79 per month and €2 per table for bookings through their website."
Because Thornton's opens only five days a week, Muriel finds it particularly effective on Sundays and Mondays when they are closed for taking bookings. "It is an instant world and if people haven't tried a place they want to be able to book immediately - it's generally for new business."
Restaurateur Ronan Ryan says: "All the big hitters in New York such as Nobu are on it and they've done the leg work. It'll be huge. With American tourists up 8/10pc year on year, they'll all be on it. They'll just go into the big hotels, go onto Wifi, and book a table."
I still like the personal touch of ringing a restaurant and requesting whatever type of table I would like - not in the middle of the room - and getting a feel for the atmosphere. However, look out, guys, OpenTable is coming to a restaurant near you.
First published Sunday Independent