Restaurant Review - Cinnamon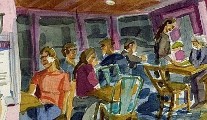 Sunday 11 October 2015
When I visited the then new Cinnamon in Ranelagh some three years ago, although the food
 was good and the surroundings lovely, the service was farcical, to the point where we'd wondered was a TV host going to jump
 out of the woodwork yelling 'Gotcha'. A second branch opened in Monkstown last year, and
 we met up there with friends, Mary and Miko, for dinner on a recent Saturday night. We were 
all quite buoyed by the decor, 
the fabulously generous brown leather banquettes, the rustic tables, the bottle lined shelves and general ambiance. There were only three or four tables occupied, and we ordered a bottle of Protos Rueda Verdejo (€27.50), faffing around a bit as we looked at the menus and chatted while getting ourselves settled.
Brendan passed on the starters (€6-€12), while Miko kicked off with confit of duck terrine (€10) with pistachios, fennel and orange salad, which was fine, if a tad pricey. Mary and I fared better, with garlic and chilli prawns with chorizo (€9), which were decent sized king prawns in a black skillet with a slice of brown bread, while a superb open ravioli (€10) had two silky thin sheets of pasta, layered with beef cheek, sitting in a spinach cream with a red wine jus. We were happy campers.
However, ten minutes later
 we were wondering where it
 had all gone wrong, as we sat 
in silence staring at our main courses. Had the chef abandoned the kitchen, we speculated? Why was Brendan's pan-seared rib
eye steak (€27) served in such 
an uncouth fashion, thrown on top of the chips, the whole lot awash with dripping Bearnaise sauce, instead of being served on the side? It was schoolboy stuff, and, to make matters worse, the steak was tough and stringy. Miko took a deep intake of breath as he looked at his chunky, fatty piece of pork belly (€19), with its rock hard crackling, sitting atop red cabbage and lentils. A couple of swirls of red jus and a cider glaze, from squeezy bottles, were not going to turn this piggy pauper into a royal prince! A single, limp fillet of sea bream (€23) for me was awful and very poor value. It was flaccidly sprawled on commercial- looking couscous with a few black olives, while, somewhat bizarrely, across the top of the plate, sitting like pawnbrokers balls in limbo, were three, large and naked, rock hard, cauliflower florets! A starter portion for Mary, of 'watercress and baked ham risotto with pan roasted scallops' (€12), was also disappointing. Apart from small garnishes, and the chips with the steak, sides weren't included, so Miko ordered chips (€4). On top of all of this, we had come 
to realise that the wine we had ordered, which we were finding very flabby as we got further 
into it, had been substituted by another Verdejo without telling us, as "they were changing their wines"! We had then ordered a bottle of Saint Clair Vicar's Choice Sauvignon Blanc 2014 (€31). On removing the plates, what seemed like a more senior person, asked Brendan if he'd enjoyed his steak and he told her straight. Asking for the bill, another young lady who'd had us under observation, but not come near us all evening, dashed out of the kitchen with two brown paper bags containing a croissant each for our breakfast! It was eaten bread, all too late, and some recognition of our trials should have been reflected on the bill, which had come to €181 for four starters, three mains, two bottles of wine and a lesser than normal tip. Abandoning the croissants, we adjourned chez moi for strawberries, cheese and coffee, and a lot of bitching!
Cinnamon,

23 The Crescent,
Monkstown,

Co Dublin.

Tel: (01) 230-3500
cinnamon.ie
lucindaosullivan.com