Restaurant Review - loko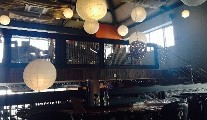 Saturday 14 November 2015
Not being familiar with the international language of Esperanto, I wasn't quite sure what the intended definition of the name 'loko' was (lower case
of course), as we headed into this newish eatery in Waterford. To
 me, it meant 'crazy', while the urban dictionary comes up with everything from 'hammered' to 'party', but apparently, in this 
context, it means 'place' and 'reflects their global outlook
 and sense of local place'! Serious stuff! It's a big venue, over three floors, with an achingly hip feel, including a de rigueur hipster corrugated iron ceiling bedecked with kitchen knives, 1970s paper 'balloon' lampshades, a Hendrick's gin bottle 'vase' in the loo, Blackjack tables and doe-eyed
 cow face paintings – which are 
a bit 'over' in restaurants now.
 We had called in for a late lunch 
en route to Cork, the lower floor was closed, and the balcony was pretty well a no-go area as it had a family who allowed a young child scream non-stop for the duration. We were greeted by one of the co-owners, Stan Leslie, who was chatty and welcoming, as we all looked up at the offending family.
While loko tries too hard to be hip, it does offer good quality casual food throughout most of the day and evening at reasonable prices. The lunch/daytime menu covers 'lite bites, salads, flatbreads, open sandwiches and desserts'. This is beefed up at night with the addition of a meat and fish section, which included a 10oz ribeye steak at €15, an 8-oz fillet at €16.50 or 24-hour braised lamb at €12, which can't be bad in any man's terms. Lunchtime salads were €6, while open sandwiches at €7.50 sported a hot smoked salmon number, as well as crab, or braised lamb versions. We ordered potted confit duck (€8) with cornichons, sourdough toast and house chutney, to share. I expected a more compressed, French rillettes style, easily spreadable, 'potted duck'. This was a self-assembly job, with no cohesion and difficult to eat, just having 'torn' duck leg chunks, cornichons and chutney, in three separate bowls. Also, the classic French pairing is with orange, the Chinese with plum sauce, both for the reason that rich duck meat is best with a sweet fruit sauce, an Irish style tomato chutney just doesn't work. Looking at the 10" flatbread selection on ordering, I'd said to Mr. Leslie, who left the restaurant shortly afterwards, "I'm tossing up between Moroccan or Chinese shredded duck." Asking if I liked things spicy, he said "go for the Moroccan one", with which I ordered Asian slaw (€3.50). Brendan's flatbread (€10) with slow cooked chicken, chargrilled red onion, goat's cheese and pepper, arrived along with a side order of fries (€3.50), and he was happy. I was presented with the 'Loko Mexicano', with chorizo and salami, which I am sure would have been very nice, if that was what I'd ordered. However, the kitchen very quickly made me the correct one, also getting together the Asian slaw, which had been forgotten. Again, the flatbread itself was lovely, the shredded lamb, with a couple of blobs of yoghurt and rocket, was pleasant, but it had absolutely
no hint or flavour of being in any way connected with Morocco. The hastily cobbled together 'Asian slaw' of shredded red cabbage, spring onion and celery, was equally bland. I even asked for more dressing, which also lacked the zingy flavours of anywhere East of Dublin Airport. The food is good fresh and wholesome, but they need to inject more thought and care into delivering on those global flavours, to which they are aspiring. Our bill with optional service came to €39.
Loko

Ardkeen Shopping Centre,
Dunmore Road, Waterford.

Tel: (051) 841-040

loko.ie
lucindaosullivan.com