World Animal Week – 4th – 10th October 2015 #EndCruelty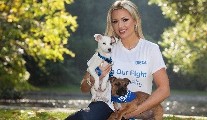 Sunday 04 October 2015
World Animal Week – 4th – 10th October 2015
Join Our Fight #EndCruelty

To celebrate World Animal Week 4th – 10th October coinciding with the feast day of St Francis of Assisi, the patron saint of animals on October 4th, the ISPCA is launching a social media campaign and asking all animal lovers to Join Our Fight to #EndCruelty.

ISPCA Ambassador Rosanna Davison was on hand to show her support and is calling out to all animal lovers to get behind such a worthy cause and make a difference during World Animal Week. You can help in so many ways from volunteering to rehoming a rescued animal, by making a donation or simply giving your pet some extra attention.

ISPCA Public Relations Officer Carmel Murray said: "World Animal Week is a wonderful opportunity to give animals a voice and raise awareness for improved animal welfare standards not only in Ireland but right around the globe. The ISPCA is encouraging everyone who loves animals to share your animal stories and photos on social media. Simply Join Our Fight and use #EndCruelty and #WorldAnimalWeek so we can see your amazing contributions and together we can End Cruelty.

As a charitable organisation, the ISPCA relies on your support enabling us to carry out our vital work rescuing, rehabilitating and responsibly rehoming animals that desperately need our help. Visit our website www.ispca.ie for more ways to support our work.