Restaurant Review - Trump International Doonbeg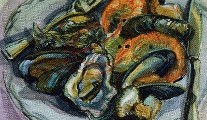 Wednesday 16 September 2015
If I'd expected the Star Spangled Banner, and a line of limos, outside the front door of the Trump International Golf Links & Hotel Doonbeg, I guess I would have been disappointed. Happily, we got the full Irish welcome from smiling porters, who did the valet parking bit, and led us through the film-set pretty courtyard and great doors to reception. I'd been curious to see what had been happening at the former Lodge at Doonbeg, since it had been bought by Donald Trump last year for €15m. Whatever about 'Mexicans' and 'blood' on the campaign trail, 'The Donald' certainly played a 'trump card' here, for the furnishings must have cost €15m alone, not to mention the whole village of courtyard houses and suites, 400 acres of ocean-front land, and an 18-hole golf course. His purchase was also, in what the Estate Agents would call, 'walk- in' condition, the furnishings using lots of Irish linen and tweeds, chosen by legendary, New York based, Irish designer Clodagh O'Kennedy, who would have known what would appeal to wealthy American golfers. Doonbeg apparently creates for him, what he has called the 'Trump Triangle', tying in with his Scottish golf resorts, Turnberry and Aberdeen. It also gives local employment and hopefully will bring much needed Stateside tourism to the whole area.
Having driven first to Galway, and worked our way down the West Clare coast, we were ready for dinner in the Ocean View Restaurant, overseen by the glamorous, formally attired, Mairead. Head Chef, Greg Budzyn, is cooking in a contemporary style, but in a way that is not over the top. From the starters (€12.95- €16.95), Brendan chose Galway Bay oysters (€14.95), which proved a stunning line up of the big boys of the oyster world, their pearly white shells contrasting with the blackness of Liscannor slate, and each sporting a different influence – natural for the purist, mignonette for the francophile, Thai spice for Asian lovers, and sour cream with chives, reflecting perhaps Budzyn's Polish heritage. Pan-fried scallops (€16.50) and black pudding bon bons reflected an abstract picture of the Irish colours. On a white plate, the delicious molluscs, seared in a light bacon crumble, were set on a vibrant green pea and ginger puree with splashes of saffron sauce. Next up, in the de rigueur glass jar of today's culinary style, was a palate cleansing passion fruit and coconut sorbet tweaked with purple basil. Mains (€24.95 - €36) included, in various enticing guises, Skeaghnore duck breast, beef fillet, monkfish, cod and seabass. Brendan loved his herb crusted corn-fed 'proper' chicken breast (€24.95), sliced at an angle, standing on a tian of chorizo and vegetables, with crispy polenta cubes and a rich green olive and red wine jus. A 'seafood saffron risotto' (€28.95) for me was just the sort of dish you want in a setting overlooking the wild Atlantic waves. A colourful fusion of carefully constructed colours, on a saffron rice base, saw blue- black mussel shells contrasting beautifully with the natural
form of 'art deco' shaped beige clams, and the brilliant coral of crab and prawns. The colourful performance continued with a rectangular tranch of Champagne mousse (€7.50), topped with
a strip of poached rhubarb,
with raspberry sorbet and marshmallows. To wash all of this down, we had an aromatic bottle of Penedes-Bodegas Sumarroca Temps de Fleur (€29). There's a real vibrancy about Budzyn's food and with a restaurant bill that came to €133.85 with service,
it offered superb value for a wonderful experience.
Ocean View Restaurant,
Trump International Hotel,
Doonbeg,
Co Clare.
Tel: (065) 905-5600
trumphotelcollection.com
lucindaosullivan.com