Restaurant Review - Unicorn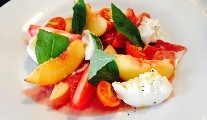 Wednesday 16 September 2015
Long Saturday lunches, drifting well into the evening, were a legendary feature of the Unicorn restaurant during the Haughey era and beyond. The haunt of the political movers and shakers
of the day, and their glamorous ladyfriends, many a scandal commenced and ended here
over bottles of Amarone and a shoestring of spaghetti! The long lunch affair might well have kicked off with drinks in the Shelbourne's Horse Shoe bar, followed by an afternoon's table hopping, frolicking and gossiping, before the men in suits returned to the suburbs to sedately watch the Late Late Show with the wife! In fact, the original Unicorn restaurant was a more formal Italian restaurant on Merrion Row, opened in 1938 by Renato Sidoli, and was very popular with more flamboyant members of the clergy, who were partial to good Italian grub. The current Unicorn, came at a much later stage and was originally a small pasta eatery known as the Unicorn Minor. Sidoli's sister-in-law, Miss Dom, was at the helm and brooked no nonsense from her celebrity clientele. The Unicorn changed hands and much ink has been spilled in recounting the restaurant's more recent colourful history, under the management of the Stokes/Bang/Casari families.
However, it's now on another journey having been taken over by the team behind the excellent Fiorentina, on Dame Street. It's a thoroughly attractive spot, with a number of tables outside for dining al fresco. We popped along for Saturday lunch and, although we didn't spot any politicians at play, we really enjoyed it. The lunch menu offered 2/3 courses at €20/€25 and proved cracking value. This menu was also available as their early bird. From a quartet of starters, Paul had prosciutto, which proved a vibrant and clever arrangement of upturned segments of peach, San Marzano and cherry tomatoes, plus buffalo mozzarella and bay leaves,masking the prosciutto. He loved the whole combination, the sweetness of the fruit, the acidity of the two varieties of tomatoes, the lushness of the cheese, all a wonderful melange with the dry-cured ham.I had feather light calamari fritti, which had a particularly good flavour, served with garden salad and Amalfi lemon. Mains sported rigatoni with fresh pea, broad beans, mint and marinated ricotta, or dry-aged sirloin steak with nduja butter and French fries (€8 supplement). Nduja is the buzz word du jour! A spreadable Calabrian pork salami, I am beginning to wonder how we ever survived without it, what with foodies gushing on Twitter as if they'd found the pot of gold at the end of the rainbow! Next month it will be something else. Anyway, Paul had escalope of veal with a lemon sauce and rosemary roast potatoes, which was excellent, and which he loved. A chunky seared fillet of hake, for me,was also superb, sitting on a base of crispy green beans, napped with a very good salsa bianca, topped with shredded fennel and greenery, and accompanied by a little pot of roasted new potato halves. We followed up by indulging in a rich, dark Valrhona chocolate tart with pistachio ice-cream, and a large square of sinful tiramisu, drenched in chocolate powder.
With two espressos (€6.30), bottled water (€4.50), a bottle of Masi Possessioni Bianco Sauvignon Blanc 2012 (€29.50), and optional service, our bill came to €99.30, which we felt was great value for a faultless performance all round. By the way, they have just introduced a new 4-course Sunday lunch menu at €30, which I look forward to trying.
The Unicorn
12b, Merrion Court, Merrion Row,
Dublin 2.
Tel: (01) 662-4757 theunicorn.restaurant
lucindaosullivan.com