Marcel's Musical Chairs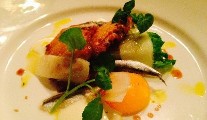 Friday 11 September 2015
It was good to see 'gorgeous Giorgio' treading the boards as Manager of the new Marcel's on Merrion Row, in a location which had been his turf for the past twenty odd years. Meeting and greeting is what he does best and there isn't a face in Dublin's who's who that he doesn't know.
There are so many back-stories to all of this restaurant drama that one could produce a blockbuster TV series packed with glamorous and charismatic characters. Briefly, Giorgio Casari was a business partner of the Stokes family (Jeff, wife Pia Bang, sons Christian and Simon) of the Unicorn restaurant (now under new ownership), and its offshoot restaurant, Il Segreto. Over the past few years, that whole business operation and connection between them collapsed, with much time being spent in the Four Courts, amid many newspaper headlines. Move on a couple of years and 'episode 2' sees restaurant 'big boy', Frank Gleeson, step in and take up Il Segreto's hot hot space, relocating his Marcel's restaurant, from a premises in St. Mary's Road, Ballsbridge, that had once housed Anne Marie Nohl's Expresso Bar! You see what I mean about dramas! Gleeson owns the Mercantile Group, whose portfolio includes Pichet, The Green Hen, Le Petit Parisien, Opium and the more recent East Side Tavern. What Gleeson has done on Merrion Row is knock the former Unicorn Deli and Il Segreto into one, creating a combination of ye olde traditional Irish bar on one side,doing casual grub, and your smart cafe society eatery on the other. "Are you taking on O'Donoghue's?" I laughingly asked Casari, referring to the legendary Merrion Row pub, which is their immediate neighbour. "This is all very New York, like Rosie O'Grady's over there." He repeated twice, seeming a tad non plussed by my remark.
The comfortable Hermes orange colour chairs from St. Mary's Road still light up the room, the Moroccan 'tiled' wallpaper is now a muted brown, the pretty blue and white Churchill china has survived the move, and the new set up has the advantage of three outdoor areas. The Head Chef, Gary Tilley, has also moved with the operation; his food has always been very reliable. The a la carte sported starters €7.50-€12 and mains €18-€28 but with an excellent value 2/3 course set menu at €20/€25 (available lunchtime and dinner 5-10pm) we decided to give both a run for their money. From the set menu, Paul kicked off with a very good boneless, pressed, crispy chicken leg, paired with wilted baby gem, slow egg yolk and anchovy mayo. Panko coated crisp veal sweat breads (€12) with charred peaches and watercress on a bed of pea puree and a jus were good in themselves, but the combination was all a bit dry and bland, and I would have liked more of a saucy element. Paul continued with a perfectly cooked strip of pork belly, on a large quenelle of whole grain mash, with Savoy cabbage and a port sauce. A fine chunk of monkfish (€28), for me, sat on a chorizo, octopus and caper 'hash' in a saffron sauce, and was delicious. Paul followed up with a chocolate concoction involving white chocolate mousse, tea-soaked cherries and dark chocolate sorbet, which he loved. The entry level of wines was €30, and we stuck firmly with that, enjoying a delicious aromatic bottle of Domaine de Mont-Auriol Viognier 2013 from the Languedoc-Roussillon region of France. With bottled water (€4.80) and optional service,the bill came to €109.60. It can only do well. It's within Dublin's 'golden mile' and it has 'gorgeous Giorgio', Watch this space.

Marcel's
13 Merrion Row, Dublin 2.
Tel: (01) 660-2367
marcels.ie
lucindaosullivan.com