Restaurant Review - Saucey Suesey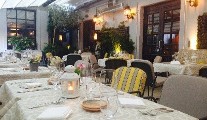 Saturday 22 August 2015
Sitting here, you could be anywhere in the world." Said my friend, Mary.
 We were, in fact, having dinner on one of the best terraces in Dublin. The former Brasserie Le Pont, on the corner of Fitzwilliam Place and Leeson Street, has morphed into Suesey Street, taken from the original name for Leeson Street in the 1700s. Still under the same ownership, the front area sports a comfortable clubby type bar, with a dining area 'around the corner', and a super terrace with a focal fireplace and retractable canopy, making it perfect for all year round al fresco dining. Arriving before Mary, I was soon ensconced admiring the perfection all around me. The only thing destroying the bliss was sharp strident jazzy music
– there is a difference between upbeat music and blowing your head off. "Please turn that down before I run out of the place", I entreated the very nice young girl in attendance, who duly obliged. This was but a mere blip on what was otherwise a beautiful evening, of superb food and service.
The head chef here is Lumir Tousek, ex l'Ecrivain, while pastry chef, Richie Shaw, is ex Chapter One. With an excellent pre-theatre menu at €25/€29 for 2/3 courses, and a well-priced a la carte menu, we decided to give both a run.
The a la carte starters (€8-€16), included celeriac soup with brie and truffle, as well as pan seared foie gras with peanut butter ganache. Mains had top notch selection of barbary duck, lamb rump, or halibut with mushroom, fermented pear quail's egg, truffle and black pudding. Fillet of beef was also there, as was Dover Sole with brown shrimps and capers.
Being a very warm evening, I went down the route of having two starters. I've grown very fond of having a couple of 'smaller' plates nowadays, rather than a huge main course. A lot of my female friends feel the same way. We were promptly brought, a lovely little smoked mackerel amuse and delicious breads. Mary loves trying 'early bird' menus, so she kicked off with a delightful rectangle of whiskey cured salmon, topped with ribbon rolls of beetroot, kohlrabi, mustard cress, horseradish snow and a walnut crisp, which she loved. Goats' cheese mousse (€9), for me, proved an ace architectural arrangement, involving quenelles of the mousse, chunks of heirloom tomatoes, lemon segments and jagged triangles of Swedish style seeded crispbread. The
PTM menu offered three mains, including pork belly with mushroom, fermented pear
and quail's egg; as well as beef sirloin, broccoli and almond, Gubbeen custard and Lyonnaise potato (€5 supplement). She chose the third, a superb meaty tranch of hake, very well seared, and presented with slivers of caramelised cauliflower, herbed gnocchi, mussels and shallot. My second starter, cum main, was
the sweetest Clogherhead lobster tail, served with a brace of superb rabbit tortellini, in a pool of malt creme fraiche (€16), dotted with green beans, smoked bacon and micro leaves. With these, we had
a little copper pot of green beans with diced smoked bacon (€4). We shared a chocolate fondant with rosemary crumble and hazelnut ice cream, from Mary's menu. Coffees (€3.20 each) came with wonderful chocolate and jelly petit fours, served on coffee beans in a wooden Midleton whiskey box. You do pick up some great ideas in restaurants, so now I am off to hunt down the box which came with a whiskey present Sir received last Christmas. I'll kill him if he burned it!
With a bottle of Cote de Gascogne, St Jean Les Cepages du Sud Blanc 2014 (€29), and water (€3), our bill with optional service came to €106.40.
Suesey Street,
26 Fitzwilliam Place, Dublin 2
Tel: (01) 669 4600 sueseystreet.ie
lucindaosullivan.com
FIRST PUBLISHED IN THE SUNDAY INDEPENDENT