The Lime House in Mallow is a treasure trove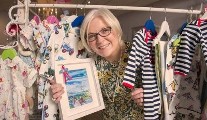 Wednesday 12 August 2015
You only have to look at the number of builder's vans outside houses in the past few months to realise that people have got sufficient confidence back to splash out a bit on their homes.
It's a funny thing too, there's a touch of keeping up with the Joneses, for no sooner has one renovation been completed in my neck of the woods than up arrives another builder, painter, carpenter, flooring man, and, if you're really posh, the interior decorator's 4X4 with their name proudly emblazoned on the side.
One way or another, it's great to see. It's made me wake up and realise the list of things I need to do - new French doors to replace the rotting ones I've been saying are "grand", new blinds to replace the tatty ones that have the cord tassels broken off (to the mortification of the family), new family room sofas to replace the ones that are nearly on the floor and smelling of cat, and a general all-round paint job from top to bottom!
It's not just a vanity thing, a good freshen-up and revamp does really lift your spirits, kick your ass a bit and motivate you in other ways.
"I had two ladies who came from Fermoy, who said it just cheered them up to come into the shop," said Catriona Cronin, who opened her cool new home and interiors shop, The Lime House, in Mallow, Co Cork, barely three months ago.
Mallow is a really attractive town with wonderful buildings. It reminds me of French towns - the focal part being the beautiful, tall, narrow four-storey Clock House, built in around 1855 in an almost medieval style with its half-timbered bow windows and clock tower.
Catriona is originally from Limerick but crossed the county border when she married Colman, who is a farmer.
"I wasn't going to move him to Limerick, so I'm living here for the past 15 years. I'm a chartered accountant by profession and I've always hated it! I guess I hit midlife and I said I am going to spend the rest of my life doing something I actually enjoy in a much more sociable environment," Catriona chuckled.
"I've always been interested in interiors and I think the time is now right. I feel a real sense of positivity from people I meet every day, who are pleased to see a new business opening.
"They just walk into the shop and say how lovely it is to have something like this back in the town, and on the main street. Last week, I met two young local women who are also embarking on new business ventures. One is opening a new cafe nearby in Blarney, and the second has recently returned home from the UK after many years and is setting up an interior-design business, so it appears to be a time for new beginnings."
The overall look of the shop and the furnishings is French and New England style, with a touch of Nordic thrown in. That look we all love nowadays.
"We are sourcing stock from Belgium, Denmark and the UK primarily, with occasional furniture coming from a Wicklow-based supplier who manufactures quite a bit of it in Indonesia.
"Dealing with Irish suppliers is very personal, and contact is with the individuals themselves, and it is my objective to add many more Irish suppliers and designers to the lines I carry."
With a lovely cross-section of ever-changing stock that includes occasional furniture, lamps, mirrors, clocks, candles, china mugs, cushions, textiles, baby gifts and toys, I thought the prices were also very good.
I loved (and I bought) the large size blue-and-white Churchill china mugs, emblazoned with cows, pigs and hens, which give a cup-and-a-half of tea. Perfect for taking to the desk without having to go back for a seconds!
There were some beautiful cushions there from Biggie Best, which instantly throw a new look on a chair or a bed, as well as some great Thomas Kent statement clocks, and Au Maison oilcloths.
Catriona also has a wonderful Djeco range of toys, games and decorations for kids, from France, along with some really brilliant wall stickers, which are a cool way to decorate a child's bedroom without going overboard. Also, look out for the Powell Craft clothes for young children and Moulin Roty fabulous soft toys - they are just delightful.
Another range which caught my eye was Greengate, a Danish collection of glassware items, textiles and bowls.
"I've had them in my home for years, so they are things I love myself. Being an accountant, I'm a thrifty person, and loads of people have commented on my prices being good. So, it's nice to get that feedback."
Products from Irish suppliers included Vera Gaffney 'limited edition' prints, which have been proving very popular. Vera, whose paintings are known for their vibrant colours and energy, is an artist, originally from Wexford, who now lives in Boyle, Co Roscommon, and works from her studio by Lough Key.
Her paintings are lovely, and it is great to be able to enjoy them and brighten up your home by way of a limited edition, which costs an awful lot less than an original painting. (www.veragaffney.com)
Catriona was also very enthusiastic by the unusual work of Clare Jordan, who is based in Ballon, Co Carlow. Jordan started her business at the kitchen table, making really funky and inspirational vintage-style signs, which make great gifts. I also came home having purchased some of her really amusing cards - the perfect one for me saying, "most days the only exercise I get is eye rolling"! Let me assure you, there's one for everyone in the audience. (www.clarejordan.com)
Another range which caught my eye was that of Purcell & Woodcock - a new Irish company set up by Gina Cassidy, selling candles and diffusers, with combinations of fragrances, from French Lavender to Ocean Spray, Fig and Sweet Vanilla to Midnight Pomegranate. Packed with style, they look expensive but they are well priced. (www.purcellandwoodcock.com)
Oh yes, they've just got a cool new range of lanterns and tray tables from Pomax. And you can facebook the shop at TheLimeHouseMallow
And when you've taken all that lot in, pop in to the nearby delightful Brudair's Bakery and Coffee Shop, which had a very impressive range of breads, patisseries, cakes, tarts, vol au vents, sandwiches and soups, all served up with friendliness and charm.