Restaurant Review - Jules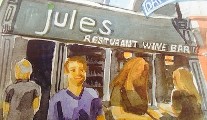 Wednesday 12 August 2015
For almost thirty years, Les Freres Jacques, was a popular French restaurant beside
the Olympia Theatre on Dame Street. Opened in 1986 by Breton restaurateur, Jean Jacques Caillabet, it satisfied the desires of affluent Francophiles, being a favourite with the legal and professional fraternity at a time when long lunches, involving a couple of cognacs and a large cigar, were the norm. The late broadcaster, Gerry Ryan, who was partial to good food, was also an fan. However, time and lifestyles wait for no man, to misquote the old adage. Lunches became a panini and bottled water at the desk, and most high-end restaurants saw their corporate entertainment trade collapse. Last year, Les Freres Jacques closed.
There has been a big change in restaurant culture in Ireland in recent years. I love good French food, but there has been a huge increase in the number and variety of restaurants and cuisines available in Dublin. We can now eat exotica from Mexico through Nepal, to Peru and Indonesia. The old coq au vin or souffle is not necessarily going to have them queuing out the door anymore. People eat out now as a matter of course. It's not a night out on the tiles, or a culinary experience; they want good, quick, affordable food. Dublin is now a bubbling cauldron of fresh ideas.
Twelve months later, the Dame Street premises is still in the hands of the Caillabet family. Following a major revamp, it has now reopened under the name Jules, a restaurant and wine bar, being run by Jean Jacques son, Julien Caillabet, embracing the ethos of casual 'smaller' and 'larger' plates. The smaller plates (€2-€9) included oysters (€2/€2.50 each) natural with ponzu (a citrus-based sauce); or gratinee with white wine and cream. Poached egg was served with truffle oil and Gruyere soldiers; while scallops and mussels came with mash and garlic butter. A 'Jameson' duck and pork terrine (€6.50) was served in the traditional French style, with a fanned cornichon, radish wafers, sauce gribiche and bread, all of which was fine.
A quartet of filo wrapped pork belly parcels (€6), attractively topped with greenery and julienned apple, sadly lacked flavour. Larger plates (€12-€22) on the menu featured crab linguine as well as a 'French dipped' lamb sandwich with caramelised onion.We went with what were described on our menu as 'marsala marinated' jumbo prawns with rice and tzatziki (€15.50). On the face of it, a mix of Italy and Greece. When they arrived it seemed India had come into play too, and maybe the description should have read 'garam masala marinated', as on their website, but one way or another, whatever was in the mix, they were bitter and soggy.
Duck pie (€13.50) looked good sitting in 'meat jus', with a few mushrooms, and an orange section. But, it was almost like an illusion. It was tasty, but had the bird flown? We could only find a smidgen of duck, the rest was a stuffing, so we dived into our Polenta Pont Neufs fries (€5). A bit deflated, we soldiered on with desserts (€6/€7.50), which included pain perdu with Bailey's ice cream. Pancakes (€7.50), with a 'Jack Daniels' syrup, cream and a half strawberry proved sweet and cloggy, almost like the commercial variety. The entry level for wines was €26, with one other at €29 in each variety, then from €30 upwards, which is expensive, particularly bearing in mind that it's casual food.
So, with a bottle of Domaine de Millet, Cotes de Gascogne 2014 (€26) and two espressos (€6), our bill with optional service came to €93, which we felt was very bad value for what we received.
It's all 'Very Jules', they say, but it certainly wasn't 'Very Lucinda'.

Jules,
74 Dame Street,
Dublin 2.
Tel: (01) 679-4555
veryjules.com
lucindaosullivan.com