Restaurant Review - Luna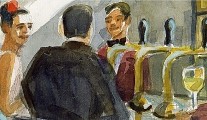 Tuesday 04 August 2015
Super Miss Sue is the all encompassing name of what was to be a trio of eateries by restaurateur, John Farrell, some 18-months ago on the corner of Dublin's Drury Street and Stephen Street. Farrell began the SMS story with a fish and chip takeaway called Cervi, plus a cool Italian style seafood eatery, simply entitled Cafe. The third part of the venture took a while in coming, the space having been used for a pop up steak house at one point. However, the trio is now complete for Luna has landed.
Entering straight off the street, down a steep staircase, to be faced with a vibrant red statue of a nude female figure on a reception desk, and a neon sign above, reminded me immediately of a 50sor60sSohoclub.Completing the picture, a very polite, tux- attired,youngman ushered me through a heavy red curtain, to a room full of semi-circular leather banquettes, and a big feature bar. It was the Christine Keeler and John Profumo era in a nutshell. Over to the side, waiting in the wings, as it were, stood the chefs. The general foodie theme is up-market, contemporary classic, Italian chargrilled seafood and steak with,at one end ofthe bar, an area displaying haunches of Parma ham hanging from hooks.
The menu offers charcuterie, a quartet of starters, soup and salad, pasta, and charcoal grilled meats and fish. Retro classics featured Achill Sound Pacific oysters with shallot red wine vinegar, as well as beef carpaccio with warm bone-marrow and summer truffle. Iced jumbo shrimp cocktail (€14), for Rena, had five 'big boys', in their naked glory, perched on a bed of ice in a cocktail glass, with a Virgin Mary style tomato and horseradish sauce and voile covered lemon on the side. I had a blackened, chargrilled, whole octopus tentacle (€12), with squid ink and garlic crumbs,which was what one might call the real thing! It tasted delicious, but if you are expecting delicate 'calamari rings' – you've been warned – this is hardcore octopus porn.
From the charcoal grill; sirloin, hanger and striploin, steaks run from €24-€32, with Bistecca Fiorentina for two people available 'POA'.I don' ttotally get this POA business. Nowadays, they should be able to average out a price.The same applied for a veal chop Marsala which, on the night, was something of the order of €45/€50, while turbot on the bone, again for two people, was €65, or a 400 gram chunk at €50 for one. Pork rack with Italian sausage and peppers was €26, while Osso Bucco, yet again for two people (not available on our visit), was €58. Anyway, a roast tail of lobster, at €32, was stunning. Set to the side of an aromatic and divine saffron risotto, the plate was then 'embossed' with intermingling deep-fried courgette flowers and ribbons.
I would go back for that dish in a heartbeat. Rena also loved her chunk of blackened tuna (€29), seared on the outside, rare in the centre, served with 'beets from the fire', and dramatic red and creamy speckled leaves of Castelfranco radicchio. Both dishes were winners.
Desserts appeared on a big, vintage trolley and were totally luscious Cordon Bleu style confections of yore, including tiramisu Charlotte, carrot cake, and New York style lemon cheesecake. We shared the fourth option,a scrumptious tranch of Hummingbird cake (€6), a banana and pineapple spiced layer cake from the Southern States of the USA. The entry level of wines by the bottle was €28.50. They also have wines 'on tap' and, with three glasses Aba Albarino, Rias Baixas, 2013 (€8.50 each), our bill with optional service came
to €130. Luna is open from 5pm, Thursday to Saturday.
Luna,
2/3 Drury Street Car Park,
Dublin 2.
Tel: (087) 776-4230/(01) 679-9009
supermisssue.com
lucindaosullivan.com