Our Latest Great Place To Eat - Sister Sadie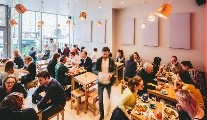 Wednesday 15 July 2015
Sister Sadie is affectionately known as the younger brother of Brother Hubbard's on Capel Street, and it certainly has the same sense of style, flavour and attitude that has made big bro so successful. Always bustling, the atmosphere in Sister Sadie's is very fresh & hip, with a bright welcoming interior illuminated by very stylish hanging brass light fixtures. When it comes to cuisine at Sister Sadie's, they say that their aim is to serve simple fresh food & drinks made with a lot of love and effort. Their menu is simple, focusing on the quality & freshness of what they put on their customers plates.
Serving breakfast from 7.45am Mon – Fri, they have some great morning munchables, like toasted granola with organic yoghurt and their Summer berry compote; slow cooked organic porridge served classic, special or virtuous; toasted sourdough breads with a selection of homemade preserves; or their very own concoction called a bircher bowl, consisting of rolled oats, dried fruit and dates soaked in organic apple juice with banana, cinnamon, cardamom, crème fraiche, a little maple syrup, all topped with toasted nuts, pomegranate seeds and fresh mint. Delicious! They also do all sorts of scones, brownies, slices and cakes, with some of their brunch dishes featuring on the breakfast menu to cater for those particularly ravenous early birds.
As the clock ticks forward, the breakfast menu gives way to the lunch & brunch offerings, which feature things like sweet pepper & roast tomato soup topped with chilli & herb yoghurt and served with sourdough bread and hummus; Shakshuka style baked eggs in a rich and gently spiced tomato and roast pepper stew, accompanied by Feta, and fresh herbs.