Restaurant Review - Cavern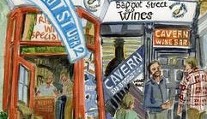 Tuesday 10 November 2015
'Just knock three times and whisper low, that you and I were sent by Joe . . ." There's a real whiff of Hernando's Hideaway to the new Cavern, a wine bar on Upper Baggot Street. It is the sort of place that you think you have discovered all by yourself and, on getting there, as the old song continues, "you'll meet your uncle Max and everyone you know".
Cavern is located under Baggot Street Wines, which in itself is a delight, with a range of some 700 wines, and which also won the National Off Licence Association Beer Specialist of the Year in 2013 and 2014.
Accessing Cavern, through the shop, feels like you are on an Indiana Jones adventure. You give a nod to the person behind the counter, who points you to a side door, down a step and around to a staircase, with tea-lights leading you down into the basement.
You arrive into another world of a contemporary-style long, cool, narrow room, with a sofa seating area at one end, a banquette and tables further on, and a big outdoor area covered by a vintage glass canopy. Lo and behold, on its third night of opening, the old song was proved correct, as the outside area was fully occupied by happy locals.
The menu, as befits a traditional wine bar, is simple, "breads, plates, boards and salads", focusing on artisan produce, at €10/€12/€14 respectively. When it comes to wines, the world, obviously, is your oyster. You have the option, up to 10pm (when the shop closes) of buying your bottle in the shop and paying €5 corkage in the basement. Alternatively, you can choose your wine from Cavern's extensive wine list.
The idea of doing an easy version of BYOB rather appealed, so we bought a delicious bottle of Laxas Albarino 2013, Rias Baixas in the shop, which at €19.99, plus corkage at €5, brought our wine experience to €24.99.
We kicked off food-wise by sharing a selection of breads at €6, which were great value, coming as they did with three generous dips of hummus, soft-whipped Ryefield goat's cheese and a very tasty beetroot-based melange.
The "plates" sported a selection of four, including Isabelle Sheridan's 'On the Pig's Back' pork and plum terrine with Cumberland syrup, pickles and Tartine sourdough; hot smoked salmon rillettes with horseradish creme fraiche, cucumber and OhArtagain soda bread.
We shared two "plates", both at €10 - a trio of duck confit sliders; and "torn lamb shoulder". There isn't a lot of cooking involved here, it's more of an assembly job, but it's how it's done, and the produce, that counts.
Sheridan's confit duck was the star of the sliders, enhanced with plum sauce and a red cabbage and fennel slaw, all packed and skewered between toasted buns, resulting in morsels of delight.
The 'torn' lamb shoulder was fab, and makes a change from 'pulled' pork, which I am heartily sick of. It was Greek in style, liberally tossed on Arun focaccia, and served with hummus, minted yoghurt, pomegranate seeds, greenery and lots of Toonsbridge feta cheese.
Whatever notion we'd had of moving on to salads (Ted Browne's Dingle crab; Gubbeen chorizo; smoked chicken Caesar; or Ryefield goat's cheese) dissipated after that lot! So, we shared a cheeseboard (€14), which had a mix of really good French and Irish cheeses, again amply embellished with membrillo, plum chutney, grapes, Sheridan's crackers and divine OhArtagain fruit soda.
Just as we were about to get our bill - which was €40, excluding the wine and corkage - our delightful waiter arrived with a dessert selection plate for us "as a treat". They certainly were a treat, and all gluten-free.
There were two cubes of marshmallow and an ethereal pink meringue, from Delish Melish; plus a tranche of polenta and orange cake from Jennifer Egan's new Don't Be Such a Gluten range.
Just like the treats, Cavern is very moreish!
17 Upper Baggot Street, Dublin 4.
First published LIFE mag in the Sunday Independent