Our Latest Great Place To Eat - Mykonos Taverna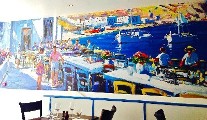 Tuesday 07 July 2015
Mykonos, a Greek Taverna on Dame Street, with its wall-to-wall colourful murals of diners on a terrace overlooking fishing boats in deep Aegean blue waters. Greek music was playing, Greek waiters were on the floor, there was a large menu of mezze style dishes – it was Shirley Valentine style escapism at its best.
On sitting down with my friend Paul, I discovered that it is the new venture of Adam Kritidis, who originally set up Corfu on Parliament Street (which is now under new ownership), and Eri Shore, who will be familiar to regulars of Residence, on St. Stephen's Green. Eri, who is from Athens, told us he had always wanted to set up his own restaurant, and Mykonos, which had only opened a few days before, is the result.
The menu majors in 'mezedes', with an extensive range under the categories of salads, dips, legumes, fresh fish, meat, vegetarian, saganaki and homemade pies. Scattered throughout that broad spectrum, were Greek favourites such as spanakopita, a savoury pastry filled with chopped spinach, feta cheese, onions and seasoning. Fresh mussels are with homemade tomato sauce, extra virgin olive oil, feta cheese and oregano, while artichokes are cooked on a charcoal grill with evoo and lemon juice. It's a great place for vegetarians with their selection of giant or green beans cooked in casseroles with garlic, onions, and tomato, plus their vegetarian vine leaf dolmades, stuffed with long grain rice, fresh herbs and seasonings. The fresh fish selection included chargrilled octopus, fresh prawns with garlic, white wine, olive oil and lemon juice, as well as sardines and whitebait. If you want to go down the more 'solid' route, mains include meat or vegetarian moussaka, a mixed grill platter, lamb chops, the popular Greek stalwart of Kleftiko – a baked lamb dish, which is melt in the mouth tender. The steak man is also catered for by way of an 8-oz sirloin or a 12-oz T-bone with all the trimmings.