IRELAND'S HOTTEST YOUNG CHEFS ARE SERVING UP ACES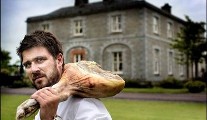 Thursday 02 July 2015
With the tennis starting at Wimbledon tomorrow, the O'Sullivan family has been busy discussing possible outcomes on the grass courts.There's much to consider. Reigning No 1, Djokovic, was sensationally beaten in the finals of the French Open, Andy Murray was also knocked out (by Djokovic). Wawrinka, although in the top 10, has long been overshadowed by fellow Swiss countryman Roger Federer.
In short, it's interesting times for tennis. There's a sort of 'lost' middle generation who have always been playing in the shadows of the Federers and Nadals. Now there is a younger generation of serious contenders - 23-year-old Grigor 'Baby Fed' Dimitrov (he's also Maria Sharapova's boyfriend) and 25-year-old Milos Raonic are among the young turks flexing their muscles and belting their balls down the court.
It struck me that the same thing applies in the cheffing world. When I started doing restaurant reviews, some 23 years ago (making me the longest standing food critic with any newspaper), the standard of food around the country was a far cry from what it is now. In general, it was pretty basic - apart from high-end restaurants headed up by dedicated ambitious chefs, many of who are still household names.
However, the talent out there at the moment is challenging for the older guys, with an ever-increasing group of dedicated young chefs champing at the bit. They were never better trained, never as widely travelled. In fact, there was never such a focus on food - and with social media, chefs have never had as much opportunity to communicate with their peers, and to get their names out there.
Robbie Krawczyk is head chef at Tankardstown House in Slane, Co Meath, where he has been wowing people all round with his elegant well-measured plates. He recently won the 'Best Chef in Leinster' title at the RAI Awards. Krawczyk, as they say, "didn't lick it off the ground" - he grew up around food. His father, Frank Krawczyk, founded West Cork Salamis in Schull at a time in Ireland when eating salami was considered seriously avant-garde.
Robbie brings the skill of smoking with him to the Tankardstown table with dishes such as cured pork neck with carrot, popcorn and savoury praline. Try his scallops, sand, seaweed and oxtail vinaigrette or the sea-urchin on the tasting menu.
Peter Clifford -just 23 years old and currently head chef at the relatively new Stanley's Restaurant in Dublin - is another young man to watch. He also grew up in the restaurant world, for his father was the well-known Michael Clifford who died in 2006 - the same year his 15-year-old son won the 'Tesco Young Chef of the Year'. When Peter first made contact with me a couple of years ago, he said he wanted to write a book combining his father's recipes and his own. He followed through with his dream and published a super book, Clifford & Son, which has some lovely recipes including poached eggs on spinach with nuts and grapes, Clonakilty black pudding with flageolet beans and homemade sausages, as well as his father's famous game pie.
On the other side of the country, Jonathan Keane is doing ambitious things at The Lodge at Ashford Castle. We had a tasting menu there some time back which was frolicsome and fun, with combinations of black pudding and chocolate truffle, surprise boxes and lollipops. Behind all the fun is a solid knowledge of good food and cooking and an ambition to push out the boat.
Karl Breen is another hot name who really impressed me lately. He is the new head chef at the delightful Locks Brasserie, and it was one of the most sublime experiences I've had this year. My current favourite dish is his 12-hour-cooked octopus, which has all its knobbly bits moulded together to look like a crazy paving circle. This was set off with black garlic, ribbons of salted celeriac, kohlrabi chips, tamarind, calamansi (an Asian citrus fruit) mayo, and a dusting of leek ash.
Kwanghi Chan is a guy who can create ethereal food with flavour and dexterity that is hard to match. Chan was born in Hong Kong and moved to Buncrana in Donegal with his family. From the age of eight he was helping in the kitchen of the family restaurant.
He trained at Killybegs Catering College and has worked in a number of the top Michelin-starred restaurants in the country. Now culinary director and head chef at Dublin's hottest new gastroclub - Soder + Ko on South Great George's Street - Chan has the cool kids lining up for his amazing dim sum, sashimi, and those oh-so-amazing Korean-style steamed buns oozing with aromatic roast duck.
Doing amazing food with a Franco-Asian twist is Conor Dempsey at Amuse, his little 40-seater eatery on Dawson Street. He too has worked in Michelin-starred restaurants in the UK and France and also for a long period at Olivier Meisonnave's superb Dax restaurant. I had a dish in Amuse that reminded me of the tropical colours of a Mary Swanzy painting, or the Botanic Garden's Palm House, with a palette of deep, glossy greens, translucent beiges, creams and ambers, focused around a trio of poached Carlingford oysters with black miso and apple and seaweed.
James Sheridan and Soizic Humbert (who is from Brittany) are a young couple who, some 18 months ago, opened Canteen at the Market, a tiny 20-seater cafe bistro in Blackrock Market. They met while they were both working at Residence on St Stephen's Green.
Their classy contemporary Franco-Irish food has proved so successful that they recently took over a larger premises within the market. Think of dishes like turbot with asparagus, or chicken and foie gras terrine with soused beetroot, followed by a fabulous tarte du jour from Soizic. What a TV couple they'd make.
As if is to prove my point, another super-talented young man, Mark Moriarty, aged 23, from Blackrock, Co. Dublin, whose food I first had when he won the Eurotoques Young Chef 2013, has just won the title of San Pellegrino World Young Chef 2015, which took place on Friday night in Milan. It is a major achievement in anyone's terms. Having done his culinary arts degree in Cathal Brugha Street, Moriarty worked in The Greenhouse under Mickael Viljanen and, since then, has been doing pop-ups, having formed The Culinary Counter with fellow chef Ciaran Sweeney. It seems young Irish chefs are hitting winners galore!
There are plenty other stars in the Irish culinary firmament - including Grainne O'Keefe of Pichet in Dublin; Aoife Noonan of Restaurant Patrick Guilbaud; Stephen Holland at Lough Erne, and pastry chef Paula Stakelum at Ashford Castle. They're all hitting winners and food has never been so good.
First Published in the Sunday Independent