Lismore Craft Gallery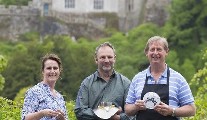 Friday 26 June 2015
No matter where you travel in Ireland, uphill or down dale, you will always find individuals and groups of wonderfully talented craftspeople plying their trade.
I have huge time for self-employed people across all walks of life. Working on your own can be a very lonely furrow, without support and more often without great financial rewards.
People do it because they take pride in what they do - be it making jewellery, painting, glass-cutting, woodwork and so on.
We have come through very tough times over the past few years, but we must still be conscious that every euro we spend on local crafts and foods means more money going around in our local economy.
On a visit to Lismore in west Waterford recently, I spotted the super Lismore Craft Studio, where I spoke to goldsmith, Moritz Schurmann, who told me how he and Eugene Young, of Iona Crystal, started the studio.
"We were approached by Lismore Heritage Centre, who asked, as part of the rejuvenation of the town itself, and with the support of the town council and Waterford County Council, if we would be interested in taking this large premises on a trial basis for six weeks, rent-and-rates-free, to see how the business would work out as a craft studio.
"We were a bit reluctant initially, but we came in and did it last summer, and we did so well that Eugene and I decided to take the whole shop ourselves and get other people to come in with us.
"So we are now a collective of four crafts businesses, who jointly do the running and managing of the shop here. We keep the uniqueness and the quality high, and we've been doing very well. So, it was a project scheme that absolutely worked out brilliantly for us."
Moritz is an award-winning goldsmith and jewellery designer with a passion for beautiful stones. It is a talent, one might say, that is in his genes, for he was brought up in an artistic world.
His mother was Gerda Fromel, a highly distinguished sculptress, who was born in Czechoslovakia of German parents in 1931. While at art school in Munich in 1955, Fromel met fellow sculptor, Werner Schurmann, and they moved to Rathfarnham in Dublin, where they set up one of the only foundries in Ireland and began to cast their works in bronze there.
Widely acclaimed here, in the 1960s and early 1970s, the very beautiful Fromel died in a tragic drowning accident on a holiday in Mayo in 1975 at 44 years old. Tragically too, her two-year-old daughter had drowned some years before in an accident at their home.
Her work has not been on exhibition since a 1976 retrospective at the Hugh Lane Municipal Gallery of Modern Art in Dublin. However, there is now a current retrospective exhibition running at IMMA, the Irish Museum of Modern Art, at the Royal Hospital Kilmainham until July 5.
"I was 15 when my mother died. There were four of us in the family and it was very tragic. The artistic talent is in the blood, and I suppose you might see some of the shapes in my work that my mother liked, that I like.
"My younger brother Killian is a glass artist and sculptor, based in Rathfarnham, while Oliver has Mount Venus Nurseries, which won a Gold Medal and Best in Show at Bloom. My eldest brother, Wenzel, is a photographer based outside Munich.
"We moved down here from Dublin seven years ago. Because I'm a craftsperson, I stayed away from retail as much as I could. I was scared of it. I didn't want to become a shopkeeper. However, I've been loving it, because I've been meeting people and I see their reaction to the work. It's been fun.
"We have the full workshop here, and people love to see the work being done. We're in the lucky position in Lismore that we get a lot of tourists from England."
Eugene Young is a master glass-cutter and designer who, in 2005, after 30 years with Waterford Crystal, set up Iona Crystal. Eugene also comes from a long line of craftspeople, from woodturners to stonemasons.
Based in Dungarvan, Eugene's grandfather used to sail from Dungarvan to Newfoundland and back, and during the voyage, he would carve detailed model ships. He taught his son, and when Eugene was eight years old, his father, in turn, sat him down and taught him the craft.
He laughed as he told me how his uncle, a stonecutter in his mid-80s, worked on Buckingham Palace, and he is still doing bits and pieces today.
Eugene joined Waterford Glass at 17 years old.
"I became a training instructor in the cutting department and worked on major pieces such as the Millennium Ball, which was specially commissioned to be lowered in Times Square, New York, at midnight on New Year's Eve."
Eugene also spent 10 years working between Ireland and the US, in sales and marketing for Waterford Crystal.
Having left Waterford Crystal, he went 'back to school' to do a business course. He then went to South Carolina with a case full of his crystal to meet a friend and started distributing from there along eastern America.
"I now have product from Florida to North Dakota, and we also export to Australia," he tells me.
Each of his Iona pieces is a work of art, mouth-blown and handcrafted by master craftsmen, using traditional methods. They have beautiful lamps, chandeliers, candleholders, stemware and much more, in wonderful historical and contemporary designs. However, exclusively at the Lismore Craft (or online) is their Lismore Castle Crystal Collection, encompassing an engraving of the fairytale Lismore Castle.
Ronan and Ultan Woods of Little Hill Design, which is based in Butlerstown, Waterford, also have a designated section displaying their really hip wooden cheese, fish, carving and chopping boards in all shapes and sizes.
They are really cool and you will be spotting them in all the hot restaurants. Also very much involved in this project, is artist Una O'Dwyer, who is a graduate of NCAD, and also married to Moritz Schurmann. She is involved in jewellery making, having worked with the renowned silversmith, Seamus Gill, and also does silkscreen prints.
"In fact, she does everything," says Moritz appreciatively, and he's the master.
Facebook/lismorecraftstudio
First Published in the Sunday Independent