Restaurant Review - Taste at Rustic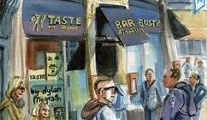 Saturday 27 June 2015
I 'd suggest allowing a good half-hour, and a stiff cocktail, to work through the explanatory verbiage and 'nutritional key' symbols on the enormous accordion-style menu of Dylan McGrath's new Taste at Rustic.
McGrath has long since established his 'angry chef' image in a TV documentary about his former restaurant, the Michelin-starred Mint. He was ramping up this image in a recent interview, where he was quoted as saying he was not interested in having chefs as friends: "They're not really interested in how I am, they're just interested in talking about how busy they are."
There is more than a touch of 'me, me, me' in that statement. Some people think he's a bit of a hard man, but I have always found McGrath to be more of a purring pussycat than a roaring lion, but we'll keep shtum, lest we ruin his hard-man persona!
Mint was a victim of the recession, with McGrath quickly recognising that the route to go down was to do great casual food, in cool surroundings. So, with financial backers on board, Rustic Stone and Fade Street Social ensued, plus a stint as presenter on MasterChef Ireland. Taste at Rustic, we are told, is the result of McGrath travelling the world, looking for new food ideas. Basically, it is slick European Japanese food, with a nod to 'hot, hot, hot' Peru, where there is a big Japanese population.
After 10 days of 'soft openings', we finally managed to visit for official business. I don't believe in the policy of big, splashy, pre-opening write-ups of new restaurants by food critics - as has been happening over the past year or so. How can you go and really tell it as it is if you've already done the pre-gush?
Anyway, the decor is really slick, with a bronze, mirror-tiled ceiling, lots of black-leather seating, wood and red brick. Chefs are working behind an L-shaped bar, at which you can also eat comfortably.
The enormous concertina menu sports vertical sections covering broth; sushi; sashimi/ceviche; kushiyaki grilled meat; and nabemono hotpots. Once you've sorted those, you have to work horizontally through further sub-headings of the taste elements: sweet; sour; salt; bitter; umami.
We kicked off by sharing a trio of sushi, including a 'native prawn' (€4), which, on our visit, was a native of Madagascar, as "Dylan wasn't happy with the Dublin Bay prawns that day". Anyway, served with sweet lobster butter, it was delish. Kabayaki eel (€2.50) was glazed with tare sauce, while Toro Gunkan (€2.25), of fatty tuna and spring onion, was topped with sea urchin cream and Parmesan.
I was looking forward to crispy soft-shell crab (€14), but I missed that it was another form of sushi. This was the only thing that disappointed us, because the crunch is part of the experience of crispy soft-shell crab. That crunchy element was lost in the little rice and seaweed-wrapped rolls.
Scallop sashimi (€13), marinated with coriander, served in a long, black dish with creamy foam bubbles and dried bonito flakes was ethereal, as was a little sweet-sour salad of ginger, palm sugar and seaweed (€5).
Moving on to kushiyaki - meat grilled over hot coals, and presented on a mini brazier on the table. We shared a skewer of deliciously tender, glazed sticky pork (€18), brushed with Japanese tare, and presented with fresh lime, yuzu fruit and a little bowl of kimchi. With this, we had mini sweetcorn beignets (€4) and 'blowtorched' shitake mushrooms (€6).
A sublime ginger flan (€7) with melon sorbet and ginger ice-cream finished up the evening, and we would definitely go back for more.
With a bottle of Santa Ana Sauvignon Blanc (€26.50), coffee (€3), bottled water (€2.50) and service, the total bill came to €116.95.
17 South Great George's St, Dublin 2.
rusticbydylan.com/taste-at-rustic.html
lucindaosullivan.com
FIRST PUBLISHED LIFE MAG IN SUNDAY INDEPENDENT