Will two and a half men represent us at World's 50 Best?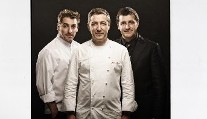 Monday 15 June 2015
The hoopla of the World's 50 Best Restaurants, sponsored by San Pellegrino, took place in London recently.
The list was first compiled in 2002 by Restaurant Magazine, a UK industry publication. Featuring mainly English and Continental restaurants, with a 'global' nod to countries such as the USA and Australia, it didn't immediately grab world headlines.
The 50 Best cruised along over the next few years, with Ferran Adria's El Bulli, Heston Blumenthal's Fat Duck, and Thomas Keller's French Laundry all vying for the top spot. Many popular English restaurants also featured, such as The Ivy, The Wolseley, Le Gavroche, the River Cafe, and St John.
In the past five years, however, it took off, particularly when Rene Redzepi's Noma restaurant, in Copenhagen, deposed El Bulli in 2010.
A global passion for Redzepi's style of Nordic food ensued, to a point where many never wanted to hear the word 'forage' ever again.
Noma held the position until 2013, when Spain's El Celler de Can Roca in Girona unseated it. However, Noma bounced back as No.1 in 2014, only to be knocked back further this year to No.3, again by El Celler de Can Roca.
Girona is accessible, but if you want to go try some of the World's 50 Best, or even the World's 100 Best, you may now need not only your passport, but visas and vaccinations - for the World's 50 Best has truly become global, which is good, but really has little relevance for most of us here.
It mainly seems to be about the Americas and the Far East, where there are huge populations and businesses to be catered for, and it seems to be all about population.
Last year they held Asia's 50 Best in Singapore, and Latin America's 50 Best in Peru. I expressed the thought that it might all become too diluted. Now, they have announced that the 2016 World's 50 Best event will be in New York.
There are only two UK restaurants in this year's 50 Best list, Dinner by Heston Blumenthal, and The Ledbury - both in London, and both of which I have visited. The one-time No 1, Heston Blumenthal's Fat Duck, is now No 74, and Fergus Henderson's St John is now No 93!
The list, they say, is "created from the votes of the Diners Club 'World's 50 Best Restaurants Academy' - an influential group of almost 1,000 international leaders in the restaurant community.
"The academy comprises 27 separate regions around the world, each of which has 36 members, including a chairperson, and each member can cast seven votes. Of those seven, at least three votes must recognise restaurants outside of the academy member's own region.
"The panel in each region is made up of food writers and critics, chefs, restaurateurs and highly regarded 'gastronomes'. Members list their choices in order of preference, based on their best restaurant experiences of the previous 18 months. There is no pre-determined checklist of criteria."
That's their description.
For the past two years, I've been amused that they had a 50 Best event in Dublin, with foodies rushing in for the free meal and tweeting the 'live stream' excitement, while I stretched on the sofa, watching it on my iPad, with the view that, due to the voting method, the chance of Ireland featuring was as likely as Brad Pitt knocking on my front door. This year there was no Dublin event.
To me, it's all become a commercial circus, and I've continuously raised the question each year of Irish representation in the 'academy'.
We are lumped into the 'UK & Ireland' region - and when I first broached the subject of adequate Irish representation, some five years ago, I got a phone call from William Drew, group editor of the World's 50 Best.
There was a lot of humming and hawing in the conversation, with mention of perhaps one person out of the then 32 academy members being Irish. The following year, I was asked to be on the panel!
I did my bit, but also expressed my view, in print, that even with my little contribution, Ireland had feck all chance of featuring on the list. The next year, the then chairman of the panel, respected food critic Richard Vines, texted to ask why hadn't I voted? But they had forgotten to send my papers!
The following year, I heard nothing at all. This year I again raised the thorny question, as to how many of the now 36 academy panellists were Irish, or based here.
They have also underlined, this year, in their press release, that, for the first time, they are working with professional services consultancy, Deloitte, as their official independent adjudicating partner.
Transparency is always a good thing in any such competitions; indeed, at one stage they used to publish all the names of the panellists. It would also be nice to think that each of the four countries in the UK and Ireland voting region had an equal number of judges.
They refused, however, to "reveal the exact make-up, country by country of the voting panels" and, following protracted correspondence, they then said, "the number of Irish judges is now more than representative of the per cent of the population they contribute to the overall region."
That, according to my calculations, based on UK and Ireland populations, leaves us with a representation of just 2.5 people on the World's 50 Best Restaurants' 36-strong voting academy for the United Kingdom and Ireland. And as the TV comedy has shown, two and a half men rarely achieve great things.
Mr Drew says that "we strive to ensure the results reflect the current global dining scene, with the system enabling members to vote far and wide for everything from small, unknown restaurants in secluded regions to some of the best-known restaurants in the world."
I can but wonder, with the current voting system, how these "small unknown restaurants in secluded regions" could come to the fore?
So, unless a total miracle happens, or Mrs Brown and her Boys bring more attention to our wonderful culinary fare, I wouldn't be packing any bags for New York in 2016.