Our Latest Great Place To Eat - Osteria Lucio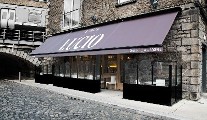 Tuesday 16 June 2015
Undoubtedly a star in the firmament of Ireland's finest chefs, Ross Lewis' legendary Chapter One restaurant on Dublin's Parnell Square being probably the most revered and popular restaurant in the country. Like many other Michelin starred chefs around the world, having conquered the culinary heights, he has recently added a new string to his bow, by way of a high-end more casual eatery. Never content to sit still, it's a fresh satellite arena for a man who is always challenging himself and the foodie world with new ideas. So, the question here is, how do you simplify your thinking from elaborate Michelin style food to less-formal presentations?
Really good contemporary Italian food is what Lewis now wants to bring to Dublin, in a citified buzzy atmosphere and, which he is doing with his new Osteria Lucio at The Malting Tower on Grand Canal Quay. It's the sort of modern Italian eatery you will find in New York or Sydney, London or Milan.
A somewhat novel part of this location is its cool, tented roofed tunnel which runs under the DART line, and creates a rather intimate feel – and yes you do hear it rumbling above as you are sipping your Pinot Grigio and nibbling your cicchetti. The layout and decor is great, with a big wood fired oven turning out a great selection of authentic, artisan pizzas. To the front, there is a casual area, where you can pop up on stools, have an antipasti plate, or just chill and have a few glasses of wine.
Paul and I ensconced ourselves comfortably at the end of a long banquette 'in the tent' where we could see all the comings and goings – it's always an interesting place for people watching.
Antipasti gave a prominence to vegetables which is not only very now but which I personally love. Roasted beetroot salad was with blood orange, hazelnuts and Five Mile Town goat's cheese, while Iona Farm carrots were with house made ricotta and gremolata. Salt baked celeriac was paired with crispy pancetta, walnut pesto, apple and grated egg yolk and fried sole was with aggrodolce, an Italian sweet sour sauce...