3 to Try - Classy Joints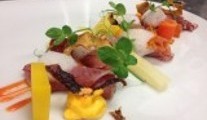 Wednesday 03 June 2015
Three to try: Classy joints
48 MacCurtain Street, Cork.
Style: In the shadow of their courtyard waterfall, it's always buzzy. Head Chef Bryan McCarthy has won prizes for his contemporary food
Price: Mains €23-€29; Tasting Menu €59
Try: Roast Skeaghnore duck breast, with parsnip, rhubarb, black cabbage, ginger pickled mushrooms, and elderberry jus, €29
Drinks: Wine, from €21.50; pichets, €14.50. Cocktails
367 Clontarf Road, Clontarf, Dublin 3.
Style: Overlooking Dublin Bay, the holistic approach to food here has been delighting customers for the past dozen plus years. Choices include pastas, salads, burgers, steaks, and healthy juices
Try: Chicken Bang Bang — chicken in a light coconut and lemongrass sauce with brown rice, €16
35 Main Street, Kenmare, Co Kerry.
Style: Excellent food provenance includes their own rare-breed saddleback pork, Dingle and Castletownbere seafood, and Billy Clifford's organic vegetables
Price: Mains €14.95-€17.95
Try: Moroccan tagine — Kerry lamb, cous cous, cucumber, and mint yoghurt, €16.95
Drinks: Wine, from €22; Irish craft beers
Sunday Indo Life Magazine