Restaurant Review - The Washerwoman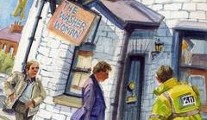 Thursday 04 June 2015
'The crew from The Woollen Mills and The Winding Stair are thrilled to be bringing some of our love, laughter, lamb, and lemons to the gorgeous and leafy suburb of Glasnevin. We want weekend brunch and Sunday roast at The Washerwoman to become a Northside institution." Well, on our visit, on a recent Saturday morning, we weren't feeling the love and laughter they promise on their website, and we didn't get the brunch either. We had wheeled up, breathless and breakfast-less, at 11.30am, to the latest venture of Elaine Murphy and chef, Ian Connolly - who, we were told, was in the kitchen himself.
The door was open, and we ventured in, as two pairs of eyes from behind the counter looked, almost disapprovingly. The female meeter/greeter recovered quickly, putting down her coffee, to tell us that they didn't open until 12pm, and that brunch didn't start until the following week. However, they would be open, and were expecting some First Communion groups. It was lashing rain, so I asked if we had to go back and sit in the car. She said, agreeably, that we could sit at a table in the corner, until the kitchen opened, and have coffee. We then became, as it were, unwitting flies on the wall, to the 'kitchen confidential' emanating from the open-fronted 'culinary hub'. Bring on Anthony Bourdain!
Meanwhile, back at the table, although they sport a lunch menu on their website, the only available menu to us was the full dinner menu. On seeing this, I wondered if there was a gold rush in Glasnevin. There was a page of "Diner Classics", of the nachos, burgers and fish fingers variety, at €15, with macaroni cheese at a chunky €19.
However, I nearly fell off my ever-so-pretty chair when I saw that an 8oz fillet steak was €40, including a choice of two sides. It's a very ambitious price for a small restaurant in a former cottage in the 'burbs. That apart, a 10oz rib-eye was €30; and lamb rump was €27. At 11.50am, the young lady came and took our order. However, she wasn't greeted with "love and laughter" in the kitchen. The chef proclaimed in full voice, pointedly repeating it twice for effect: "We're not open yet". He should be very glad, instead of bitching, that two customers were prepared to wait around to pay for his food. It was most ungracious, and somewhat pathetic. Brendan asked: "Does this remind you of anything?" He was referring to a trip we'd had on the Irish Ferries MS Normandy some 10 years ago, before the vessel was taken out of service. Virtually everyone had complained to the purser about the awful food, but when he went into the galley, he was met with a loud roar of: "Fuck Off!"
The food we experienced was also lacklustre. "The Winding Stair Irish seafood chowder with Fingal Ferguson's chorizo, and treacle bread" was at the top-dollar price of €10. Packed into a high-sided noodle bowl, we didn't discern any chorizo. Instead, the gloopy liquid held a couple of pieces of white fish, plus a total overkill of 12 mussels, in their shells, crammed in. Spicy crab cakes (€12), with saffron tartare and crayfish salad was just OK, but Brendan didn't like his beefburger main (€15) at all. Dry-aged beef it may well have been, but it was also dried-out. The bacon was overcooked, and the cheese overly grilled, but the chips were good. One expects Dublin Bay Prawns to be pricey, but, at €27, six tiny and three slightly larger specimens, propped up by a corset of firm, char-grilled fennel sections were not, to my mind, good value.
This assemblage, sitting in a pool of wild-garlic butter, had an accompanying tower of tasteless seaweed potato cake, with char-grilled lemon and drooping sunflower shoots. Not surprisingly, we didn't hang around for puds.
With no wine, just tap water, and our 'waiting around' coffees (€2.50 and €4), our bill with service came to €77.
That 'love and laughter' needs to be rekindled . . .
60 Glasnevin Hill, Dublin 9.
lucindaosullivan.com
FIRST PUBLISHED LIFE MAG SUNDAY INDEPENDENT