Our Latest Great Place To Eat - The Fisherman Seafood Bar & Grill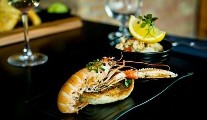 Thursday 28 May 2015
Their skipper, Pat O'Malley, is part of the well-known O'Malley fishing family, who have spent the last 40 years bringing the ocean's best to shore, and, who have several fishing trawlers operating off Ireland's west coast. From the moment I walked through the door, I felt relaxed. The interior is modern enough that it didn't feel stuffy, but retains a classic timber and brick finish that makes it a perfect middle ground for diners of all ages and bents.
When I visited, starters included steamed Galway Bay mussels, in large or small portions; a smoked salmon salad with baby capers and red onions; local crab claws sautéed in garlic butter and served with homemade brown bread; as well as their own creamy seafood chowder. I though about having their prawn cocktail, but instead went for Brendan O'Malley's garlic & chilli prawns, which were plump, juicy, beautifully seasoned and cooked to perfection. I felt bad for the main course that would have to follow that act. Himself went for a dozen Pacific oysters with shallot vinegar, which were thoroughly enjoyed and gone in no time.
For the mains, it is all about the seafood, but the carnivore is not left out either. From the land, they offer a grilled 10oz sirloin steak of 28-day dry, 100% Irish Angus beef, with house cut fries, onion rings and a choice of pepper or garlic sauce, which Brendan knew right away would soon be his. They also do a surf and turf of 28-day dry aged, 100% Irish sirloin steak with a scattering of Irish prawns with garlic butter and a portion of house fries. For the vehement veggies out there, they also do a wild mushroom and herb risotto with fresh Parmesan and a Parmesan tuile.