Restaurant Review - The Jarvey's Rest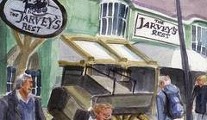 Friday 22 May 2015
'Anyone here from Philadelphia? Anyone from New York?" So asked the lead singer of the traditional Irish musical group, as they entertained a coach-load of American tourists in The Jarvey's Rest in Killarney. The tourists were in for the 'tour supper' and a bit of Irish crack. Mind you, they were a fairly sedate lot and the entertainers had their work cut out - there wasn't much fear of them letting their hair down and leppin' around the tables!
The Jarvey's Rest is part of the Muckross Park Hotel and was previously known as Moll Darcy's. Much has been written about Jackie Lavin and Bill Cullen's former hotel, and how they sadly lost it, after so many years building it into what it is today. It was sold recently to the Cork-based iNua Hospitality, who have the Radisson Blu Hotels in Cork and in Limerick. There's also a new head chef on board - John O'Leary, formerly of Pichet and the Morrison Hotel in Dublin, who is putting his stamp on the new menus.
It's great for any hotel to have a casual-dining option in addition to their main restaurant, particularly one with a totally stand-alone, non-hotelly feel, such as The Jarvey's Rest, which is bursting with old-world atmosphere, helped by wooden floors, stone walls, beamed ceilings and open fires.
We popped ourselves up at a high banquette table, keeping a slight distance from the musicians and loudspeakers, and were immediately attended to by a very friendly chap, who chatted away with plenty of Kerry charm, telling us he was a native of Killarney.
He quickly brought a pint of Guinness for Brendan (€4.50) and a Bloody Mary (€10.50) for me (which went down well after the 200-mile drive from Dublin) while we took in the menu and surroundings. It's amazing how the friendly cupla focal can make such a difference to a visitor's experience. It's so important.
The menu was casual, as one might expect, sporting popular classic options with a contemporary twist. These included Spillane's seafood chowder; spicy wings; and goat's cheese salad. Caesar salad came with the option of adding chicken or poached prawns; while there were also Kerry lamb and Guinness beef stews; pork belly with champ; fish 'n' chips; and a 10oz dry-aged rib-eye steak.
Brendan kicked off with crab cakes (€9); chunky, tasty numbers, topped with grilled chorizo, fennel salad and blobs of lime mayo. I had crispy egg (a stalwart at Pichet) and black pudding (€9), nestled in a bed of dressed leaves, lardons and capers, which was excellent. Himself followed up with a big, juicy 10oz cheeseburger (€16) which was served with pickles, red onion and tomato salad, and a bucket of chips.
To follow, I went with lamb koftas (€16), which came with a shallot and tomato salad, wild garlic yoghurt and grilled flatbread. This is totally a matter of personal preference, but I expected a looser, more diluted, meatball or sausage-style consistency to the koftas. These were proper 'kebab-house' style - compacted, meaty, lamb kebabs on the skewer - and, personally, I found them a bit heavy and greasy. Somebody else, I have no doubt, would love them. With them, I also had a side of piping-hot fries (€3.50).
We finished up with a fab sharing platter of desserts (€9), which included banoffee; a chocolate brownie with stout ice-cream; and lemon meringue pie with raspberry sorbet and berries.
It was an altogether very pleasant and fun experience. With a bottle of flinty and zesty Marques de Riscal Rueda (€28), our bill with service came to €115.10.
I loved too that they had the Torres Natureo de-alcoholised wine. You don't see it very often, but it's one of the best of its kind that I have tasted, and it also has less than half the calories of normal wine, so bottoms up!