Restaurant Review - Brabazon at Tankardstown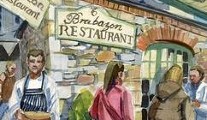 Monday 25 May 2015
Tankardstown is a glorious country house and estate, a mere stone's throw from Slane, Co Meath, which was restored and developed by Bryan and Trish Conroy just over a dozen years ago.
Having lavishly revamped the house and created courtyard cottage suites for guests, the pair then turned with gusto to the dining end of their operation. They initially turned some of the long, linking outbuildings into a stylish casual eatery, The Cellar, with exposed-stone walls, where I recall having a lovely al fresco lunch.
They then developed a stables, creating Brabazon Restaurant, carrying through the theme of exposed-stone walls, but on a much grander scale, with a high-pitched ceiling, chandeliers, formal tables, painted chairs, flagged floors and French doors to a terrace. It's reminiscent of somewhere you might find in the hills of Provence. They also have a walled garden, supplying Tankardstown and the once derelict Conyngham Arms Hotel in Slane, which they restored and re-opened a couple of years ago.
Rob Krawczyk joined them recently as head chef, and he really sparked my interest. Krawczyk comes from a very interesting foodie background, with his father, Frank, being the pioneering artisan producer of West Cork Salamis. Krawczyk junior has, somewhat naturally, introduced a smoker to Tankardstown, along with a sophisticated, challenging and contemporary style of cooking, without being over the top. His hay-smoked duck might be paired with parsnip and burnt leek; gurnard with cauliflower, pollen and ink, while textures of organic chocolate are set off with yoghurt, olive oil and rose.
A fine sunny Sunday seemed like a good opportunity to head for the 'Shires' for lunch, where we found ourselves soon ensconced at a spacious table for two, surrounded by some very glamorous family groups. Lunch at €25/€30 for 2/3 courses proved very good value, particularly as it included some dishes from the a la carte dinner menu.
I kicked off with superb house-smoked salmon, presented as three sharply chiselled vertical slices of fish, with ribbons of pickled cucumber, horseradish cream, dots of squid ink and a vibrant lime jelly. Duck rillettes with cornichons and pickles demonstrated, with admirable restraint, a perfect image of nature on a plate, having a rondelle of rillettes, with cornichons, pickled cauliflower florets, shallots, chunked carrots, leaves and chives, cascading down its side on to an imaginary woodland floor meeting vibrant berry-coloured dots.
From a selection of five mains, my dining companion had an excellent roast striploin of beef, with sweet carrots, 'real' gravy and the best roast potatoes ever, he declared! House-smoked pork loin for me was a lesson in how to make the Sunday roast look smart. Two fine overlapping tranches of tender pork had been 'criss-crossed' on the grill and were resting on silky mash potato, in a red wine jus, through which went a row of 'stepping stone' dots of glistening burnt-apple puree.
Desserts were also superb, with 'whiskey plums' and griottines, napped with a rich Italian sabayon and puff pastry shards, while the most beautiful rosemary pannacotta in a Kilner jar, was topped with pistachio crumb sporting delicious 'lacy' dark chocolate shards.
Wine prices were good, leading in at €22 a bottle, and, with a half bottle of De Martino Estate Sauvignon Blanc 2013 (€15.50) for my non-driving guest, two coffees (€6) and optional service, our bill came to €89.
Dinner includes a 5/7-course 'Tasting of Land & Sea' at €50/€70 - also available as a vegetarian tasting - whilst an a la carte menu has mains priced from €23.50-€29.
Hack on to this country estate . . . it won't be something you hate . . . to misquote High Society.
Tankardstown House, Slane, Co Meath.
lucindaosullivan.com
FIRST PUBLISHED IN SUNDAY INDO LIFE MAG