Our Latest Great Place To Eat - Roseville Rooms at Faithlegg House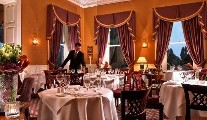 Wednesday 20 May 2015
This five star resort has a restaurant to match, which is blatantly obvious from the moment you set foot inside. The decor has recently been renovated and screams good taste with rich wallpapers and silks in cool colours and beautiful antique furnishings that are all perfectly in keeping with the atmosphere of this 18th century mansion.

The restaurant itself is divided into two magnificently adorned drawing rooms within the original house, which are interconnected by a bright and inviting garden conservatory, making the Roseville Rooms an ideal place for anything, from intimate gourmet dinners to elegant private parties. The food at the Roseville Rooms is guaranteed to please, with delectable gourmet menus being the daily norm for Head Chef Jenny Flynn and the rest of her team, who pride themselves on the sublime standards that they have set for themselves.

On my visit, starters included watercress risotto with pinenuts, bergamot & sage crust, sweet pears and balsamic jelly, as well as Goats Bridge trout gravlax & rillettes with a delicious smoked trout veloute and pickled cucumber. Confit of rabbit terrine was with a prune aioli, carrot, and toasted Seagull Bakery artisan sourdough. Brendan kicked off with carpaccio of beef, perfectly presented with a drizzle of horseradish yoghurt, rocket, Parmesan and olive oil. I decided to try seared scallops with black pudding, presented in a line on julienned apple, local cider and mustard vinaigrette, which were delicious.
For the mains, there were all sorts of tantalizing choices, all of which were being served with a selection of seasonal vegetables, such as their handmade pasta with roast squash and Bluebell Falls goats cheese; an assiette of pork with caramelised pork belly, smoked bacon, fillet of pork, pork & apricot sausage roll and a Bulmer's jus; not to mention a chargrilled fillet of Irish beef with fondant potato, wild mushroom fricassee, banana shallots and a natural jus.