Restaurant Review - Carluccio's Glasthule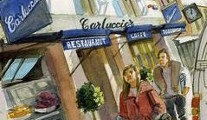 Monday 11 May 2015
I must confess I had steam coming out of my ears by the time I'd arrived at the new Carluccio's, which has just opened in Glasthule, Co Dublin. I'd called up to book a table but was told they were not taking bookings for the first few nights, only walk-ins. I could book for the following week - but not for a couple of hours' time. A fat lot of good that was to me at that point. Even pleading my case that it was a long drive in from Co Wicklow for my friend Rena, without the certainty of a table, fell on deaf ears. There was nothing for it but to leg it down to Glasthule early in the evening to bag a table.
However, once ensconced on a corner of the banquette, the blood pressure went down fairly quickly. I was completely won over by the friendly attention of our young Italian waiter, who didn't take his eye off the ball all evening. In fact, I'm not quite sure why they were so reluctant to commit to bookings because they had a full brigade of staff on the floor, some drafted in from the Dawson Street mothership, and for a first night in a new restaurant, it was a faultless experience with good food and a great atmosphere.
The first Carluccio's was started by Antonio Carluccio in 1999. He sold his stake in the business in 2005, but remains as a consultant. There are now some 95 Carluccio's in the UK and abroad, with this being the second in Ireland.
There are plans for the parent company to open six new outlets here. The great man himself, who now spends most of his time on cookery books and TV shows, was due in Glasthule the following week for the official launch.
The front section is given over to deli products and they have added an extra 'urban grey' look to what was already a pretty cool modern eatery on two levels. The format of the menu is popular Italian dishes from calamari to prosciutto, to small plates and large antipasti boards for sharing.
Pasta dishes (€10.55-€16.95) sported 12 varieties, from handmade fresh tortelloni filled with wine-braised venison to traditional lasagne. The ever-popular linguine al frutti di mare is there, as is lobster spaghetti and ravioli filled with gorgonzola and spinach. Meat and fish dishes (€14.95-€20.95) included chargrilled ribeye steak, chicken Milanese, seabass, and tagliata di manzo. Sliced chargrilled rump steak for two was €38.95.
I kicked off with sardine carpione (€8.50), from which a sweet-sour marinade wafted enticingly as the plate hit the table. I loved it and certainly couldn't bitch about the melange of pine nuts, diced carrots, onions, raisins and bay leaves spread like a rich red 'throw' across the bed of grilled sardines and rocket.
Rena was also more than happy with her choice of caprino e melanzane from the Menu Fisso, a set menu offering two/three courses at €14.95/€18.90. It was a plumptious rondelle of warm soft goat's cheese on a ragu of aubergine, onion and tomato, topped with rocket and balsamic. We felt we needed bread - a 'bread tin' at €4.45 had delicious focaccia, Ligurian crisp bread, grissini and sliced Tuscan breads with extra virgin olive oil.
I followed up with zuppa di pesce (€16.95) which was a good bowl of tomato-based fish stew with prawns, clams, pollock, mussels, spicy sausage, garlic, a little chilli and anise, with which I had a side order of crispy rosemary potatoes (€4.45).
Rena, in the meantime, loved her big bowl of penne alla luganica, the ever-popular pasta tubes proving the perfect vehicle for its spicy Italian sausage sauce.
I passed on puds, while Rena had a chunk of lovely soft tiramisu from her set menu, which was certainly excellent value.
With a bottle of mineral water (€3.35), coffee (€2.65) and a bottle of Verdicchio, Castellani Marche 2014 (€21.50), our bill with service came to €89.75.
lucindaosullivan.com
First published in the SUNDAY INDPENDENT