Meet Pat O'Sullivan of Masterchefs Hospitality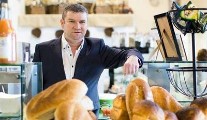 Monday 11 May 2015
I've met different people, at various stages of my life, who've all had a major influence. But, you do have to put yourself in the way of them. I've been very lucky."
So says Kerryman Pat O'Sullivan, who owns not only one of the biggest corporate and event catering companies in Ireland, Masterchefs Hospitality, but also the Cafe Noir chain, and the Artisan Food Factory, all based in Limerick.
Apart from the luck that Pat talks about, he is undoubtedly a driven man. Starting out in life, he says, from a fairly simple base in Waterville, Co Kerry, he has ended up catering for some of the biggest events in Ireland, including the Volvo Ocean Race in 2012 in Galway, and the wedding of Mr Twinkle Toes himself, Michael Flatley.
I first encountered Pat O'Sullivan at a Tipperary Food Producers event in Rockwell College. It was one of those evenings I've never forgotten. We were dining in the splendid refectory with amazing ceilings, stained glass windows and long tables.
Statues of the Blessed Virgin gazed down from plinths, the waiters were belting out operatic favourites, and I looked over to the kitchen door, where a man was standing quietly, but in full command of all that was happening, watching every plate that emerged from the kitchen. And every plate that came out was pure perfection.
Pat started out his career, as a school kid, in the Butler Arms Hotel in Waterville. "I began as a kitchen porter during the school holidays." This was his first lucky break because here he met Martin Shanahan, who now, of course, has Fishy Fishy in Kinsale and is a familiar face on our TV screens.
"I spent two years with Martin. The second year, he said to me, 'you know you have a bit of go in you for this food craic, so why don't you come back next year as a commis chef'?' I got the bug and quit school in fifth year. I was probably only 16. When you find something you are into, you just say, I love this life, I could get good at it. We've had our ups and downs in business and in life, but 30 years later, I still enjoy it as much as I did the first day."
Pat went on to do his formal chef's training, whilst also working in Parknasilla. Having qualified, he worked as a sous chef in the Dunraven Arms Hotel in Adare. "Because I left school so young, at 21 I had done more than many people at 30. I was always looking for ideas and what other people were doing."
At the Dunraven Arms, he had another very fortuitous encounter, this time with Chuck Feeney, the Irish American billionaire and philanthropist.
"I was walking through the restaurant, when I said 'good afternoon', as you do, to a man sitting reading a newspaper. I was just a chef, but he dropped the paper and the glasses. We had a quick chat, and in that quick chat, I learned he was building the Castletroy Park Hotel, at the gates of the University of Limerick. When the hotel was built, I applied for a sous chef job.
"I always say that: 'what's meant for you won't pass you by'. On my way in for the interview, who did I meet but Chuck Feeney in his hard hat. He has an incredible memory, for a guy who would have had thousands of employees. I spent a lot of years with him afterwards."
Within 12 months, at 24 years of age, Pat was Head Chef of the Castletroy Park, with a team of 15 chefs. "It was the start of another journey, to places I could only have dreamed of. What I didn't know, I went out of my way to learn. I had to, because obviously I didn't have the years. I got involved in the starting out of an Irish branch of the Epicurean World Masterchefs Society. I put together a team of 10 chefs, some really good guys, including Derry Clarke, Peter Brady, Derek McLoughlin and Geert Maes, and we started competing internationally. It brought me to France, America, Canada, and all over the place."
Pat went from being a sous chef to finally being the food and beverage manager at the Castletroy Park. "I was back and forth to the US working for Chuck, teaching food and beverage tricks at seminars in his Medallion Hotels. There I met somebody who said, 'Patrick, would you like to be the first Irish chef to be invited to do a dinner at the James Beard Foundation in Lower Manhattan', which I did, and which was a real honour."
In 1998, Pat could see there was opportunity for a good catering company outside Dublin. He linked up with Masterchefs in Dublin, who were very big at that time. "In 2001, we set up on our own. It's bloody hard work, and, even today, I am first in and last out. I put people around me who were gifted and they are still with me today. Denis Cregan is Head Chef, and Mary Lane, a gifted pastry chef (who is now married to Denis). They are good friends, there is no sense of hierarchy in the company. You could find me driving the transit out the road. There are a couple of hundred people employed in the different strands of the company. In 2008, we opened the first Cafe Noir to be a high-end patisserie cafe. We won a big contract with NUIG, then Thomond Park, then UL. They are all individually named restaurants, and not necessarily student restaurants as such. We work side by side with other catering companies, such as Aramark, Compass or BaxterStorey, and almost everywhere we are, they do one section of the market and we do another section. It's a marriage made in heaven.
"Two years ago, we set up the Artisan Food Factory. It could have been anywhere in the country, but Limerick is very accessible for us for Cork, Dublin and Galway. It's a 24-hour operation, three shifts of eight hours.
"Each shift is producing something different. There's limited machinery and everything is handmade with care. We are never going to be huge commercial breadmakers; we just want to make breads for our own operations. We have five or six signature breads, such as spelt and honey, traditional Vienna loaf, walnut and date.
"We are now producing our new Chefs & Bakers range, which is what we are and who we are. The point of doing this is because we have the in-house expertise, a huge wealth of knowledge and experience.
"We don't have to go to somebody to develop the next product, we just dream it up and it's developed. We are doing soups, quiches, salad dressings, lasagne, cakes, and patisserie. We have also appointed a number of wholesalers that carry the Artisan Food Factory produce into hotels, restaurants and cafes."
So folks, that gorgeous chocolate brownie that you love in your favourite cafe, or gorgeous French style fresh berry tartlets in a posh hotel, may well have been made by Pat and his team at the Artisan Food Factory.
First Published in the Sunday Independent