Restaurant Review - Soder + Ko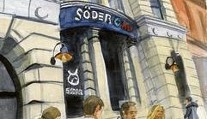 Monday 27 April 2015
We've had the gastropub and now it's the gastroclub. I love the notion of good restaurant-style food being served in casual surroundings, as do many others, which is why Michelin-starred chefs worldwide are rapidly turning to this burgeoning market. Soder + Ko is a sibling of Cafe en Seine, and they have hopped on the current passion for the food and design of Scandinavia, coupled with our endless appetite for south-east Asian food.
Inspired, they say, by Scandinavian creativity, with loose references to South Great George's Street being traced back to 9th-Century Vikings, I guess, 'you gotta get a gimmick' as the strippers sang in the famous Sondheim show Gypsy. Whatever about the Scandinavian theme (I couldn't discern much evidence of that, apart from a few pictures), it is a fabulous space in a gorgeous building, with well-designed seating areas, a visible kitchen, and a mezzanine level for bands and entertainment.
The head chef is Kwanghi Chan who, having built up a considerable reputation in high-end places around the country, is now taking on the fickle Dublin fooderati. South Great George's Street is now a hot boulevard, which in the days of yore, somewhere between the Vikings and the recession, had, as its greatest excitement, department stores of the Are You Being Served variety - Pim's, Kellett's, Winston's and Colette Modes - the last being a Mecca for aunties up from the country in search of a good tweed coat!
Having lain in the doldrums for years, the street is now centre stage again, with restaurants and bars opening apace.
The menu offers 20 or so small plates (€6-€10) plus sides (€4) and sharing platters in two sizes, ranging from €9-€30. The main ingredient, salmon, beef, and so on, is listed under categories such as raw; dim sum; hot; sides; and special steamed buns. My friend Paul and I wanted them all, and we gave it a good shot! From the raw section, we shared divine slivers of scallop ceviche (€8) bathed in lime juice, coriander, chilli and fennel, with the opaqueness of the scallop and fennel set alight by the garnet micro-leaves and radish. Tuna sashimi (€7) hit the right note, presented on a terracotta-coloured dish, sprinkled with vibrant green micro-leaves.
Moving on to dim sum, four king prawn dumplings (€6) shaped like mini-scallop shells, were mouthfuls from heaven, as were perky won ton bags of steamed pork and shrimp (€6) topped with red roe. Tempura of squid (€6) - now almost our national dish (!) - won't disappoint the calamari experts who, no doubt, will argue their little foodie hearts out on blogs or Twitter over the chewiness of the respective cephalopod!
From eight hot dishes - hake, salmon, pork, chicken, etc - we shared peppered fillet of beef (€9), which was silky and tender, and was served with sticky rice topped with a perfect quail egg-yolk and mustard cress, which was ace. A side dish of roasted aubergine cubes (€4) with garlic, chilli, coriander and teriyaki sauce was just a bit hard, with an undercooked taste, but that was really minor in the overall experience. We also ordered, in our enthusiasm, a delicious special steamed bun (€6), filled with aromatic roast duck, Asian salad and hoisin. We understood it to be small, but, as it turned out, it was quite substantial - the equivalent of a Chinese hamburger! We passed on the dessert option; the excellent nobo ice-cream in various flavours at €4. There were numerous cocktails at €10/€12, Irish craft beers and ciders, and wine by the bottle from €27, with a dozen or so available by the glass. Our wine experience was the only thing that disappointed, with a bottle of Baquiere Grande Reserve Rose 2013 (€28) being pretty sterile and somewhat nothingish in taste. Our bill, with optional service, came to €89.40.
64 South Great George's Street, Dublin 2.
lucindaosullivan.com
FIRST PUBLISHED IN THE SUNDAY INDEPENDENT