Restaurant Review - Avenue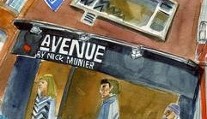 Saturday 25 April 2015
Never one to hide his light under a bushel, the former maitre d' of Hell's Kitchen and judge on MasterChef Ireland, Nick Munier, having split from his former restaurant, Pichet, has gone down yet another street with his new Avenue (A Venue - geddit?) in Temple Bar.
With a modesty matched only by the launch of the former Gordon Ramsay Restaurant at the then Ritz-Carlton Hotel, the self-proclaimed 'TV personality' and self-confessed fame junkie's new venture, Avenue, announced, six weeks in advance, that people could register their interest online in booking a table.
Having done so on my behalf, my friend, Paul O'Connor, received an email advising: "You recently registered for Priority VIP Booking at Avenue - unfortunately you were not successful in being in our first 100 registered, however, we are feeling generous and have extended our offer for Priority Booking to you."
Munier also did a pre-opening one-night stand 'Taste of Avenue' in the Muckross Park Hotel in Killarney, from where '@avenuedublin' tweeted a picture of bikini-clad legs, captioned: "The boss insists on only the best legs for his bespoke tables". This caused a flutter on Twitter, the withdrawal of the tweet, and one female critic tweeting: "It would really put me off going there". Not so this critic, who, bathing in the warmth of our big deal 'Priority VIP Booking', took off with Paul.
It wasn't a night of glory at the table, but it was the first night (full prices were in force), and they have a good chef in Tom Walsh. The decor is stylish 'posh diner' with 'Pichet blue' leather booths and banquettes, purple day-glo lighting and boom-boom techno-style music.
Starters and a ceviche selection (€5.25-€16) sported fish soup; ham-hock terrine; beef carpaccio; oysters; and salmon gravadlax. But what really fascinated was 'The Avenue Burger' at a whopping €25, which may make it the most expensive burger joint in Ireland. In some places, you get a lobster tail with your burger for less than that! That apart, mains (€21-€45) included poached cod; hake; a 10-oz rib-eye and cote de boeuf.
Paul had scallop ceviche (€16), which consisted of scallop medallions, pickled cucumber ribbons and chilli flakes, but needed beefing up in acidity and heat by way of its lime and chilli elements. "Tagliatelle of oysters a la Marco Pierre White" (€15) was a quartet of oysters on a base of buttery tagliatelle in each shell, topped with cucumber batons and trout caviar. Both dishes looked pretty, but were bland.
So, what was so special about the €25 burger? Nothing! It was a hefty burger alright, of 60-day, dry-aged, well-flavoured, smoked rib of beef, topped with crispy-lamb pancetta strips, which did absolutely nothing for it, except to leave a heavy, muttony taste on the palate. Paul asked for tomato ketchup, which took 15 minutes to arrive, with intermittent apologies.
My duck breast "Mandarin style" (€22), was a fanned circle of fine slices, with a spring onion, a chunk of 'compressed' cucumber and a couple of mandarin orange segments. "Is it supposed to be hot or cold?" I asked Mr Munier, who whipped it away with apologies.
However, its brief kitchen sojourn did nothing for it as, on its return, I watched each slice continue to dry out before my eyes, turning into tough, grey leaves, most of which I left. Was I ever glad of my side order of skinny fries (€3) and Paul's ketchup!
Desserts (€7.50) were lovely, a modern take on a pear tarte Tatin and a sherry trifle, even if we couldn't discern the sherry.
With a bottle of Ruedan Verdejo/Viura 'Herbis' 2013 (€31), bottled water (€4.65), and two espressos (€2.40/€2.75) our bill came to a pricey €136.80 before service. However, on paying, the waitress deducted the desserts and coffees, as I "didn't like the duck", bringing the reduced bill, before service, to €116.65!
1/1A Crow Street, Dublin 2.
lucindaosullivan.com
First published in Life Mag, Sunday Independent