Artisan food producers at Kilruddery Market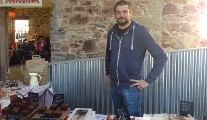 Monday 20 April 2015
'I was in the motor trade for 12 years. The economy turned, it was a family business and unfortunately, it didn't survive," said Charlie Day, of Day's Kitchen, as he told me how he had forged a new business in baking two years ago. Based in Delgany, Co Wicklow, Charlie sells his delicious cakes and breads at the fab Kilruddery Market each Saturday in Bray, as well as doing private catering and cakes, desserts and so on for parties.
"I needed a big career change and food was always a hobby of mine. I decided to do what I enjoy doing most, which is cooking and baking, primarily. I did the 12-week Certificate Course in Ballymaloe, which I loved, it was an amazing experience. When I came out of there, I thought I wanted to be a chef and I did a bit of work in kitchens and realised it wasn't for me. I needed to go down the road of self-employment, so I was looking for ideas of what to start up.
"Baking was always what I got the most out of, including at Ballymaloe. A couple of openings came up in markets at the right time, so now I make everything at home in our kitchen and sell at markets. I also do private stuff to order, such as cakes and catering, desserts for parties and other bits and pieces."
Look out for Charlie's gluten-free carrot cake loaf at just €8, or try a couple of tempting coffee cake squares or almond rolls at €2 a pop. Facebook.com/days2013
Olive and Pat Germaine also found themselves casualties of the recession, but they too turned their misfortune into something really good, setting up The Birds and the Teas, making a wide range of preserves and chutneys. Olive said: "I was in the corporate world, and two years ago myself and my husband, within a week of one another, found ourselves unemployed. We just said 'what can we do?' We wanted to make the sort of things where people would say 'that really brings me back to my Auntie Nellie's', using good, fresh seasonal fruit and vegetables. We feel that if you put the good stuff in, you get the good stuff out.
"We got advice also from Indian and Australian folk for things like our 'Last Mango in Paris' chutney. We did the Food Academy, sponsored by Musgrave's SuperValu, and thankfully they really liked the flavour of our products, so we do tastings in different shops and it's a wonderful opportunity to meet customers and get their feedback. I've changed my tomato and chilli recipe 16 times based on customer feedback, trying to get the heat right, the vinegars right. It's medium, but you get a kick at the end!" thebirdsandtheteas.ie
Kathy Grace, of Hawthorn Lane, is also making artisan chutneys, jams and sauces for the past year or so. Her sons, Kian and Conor, told me that they have allotments in Enniskerry. "We grow a lot of the produce ourselves, bring it home, cook it and bottle it." I was interested to see that they were making piccalilli, a British stalwart from the days of the Raj, which is having a revival. Look out for their rhubarb and date chutney, and their nettle pesto which featured on RTE's The Taste of Success in which Hawthorn Lane was a Leinster finalist. hawthornlanehomemade.com
If you want to bring a little Spanish sunshine to your table, Carlos Martin imports and sells Iberian delights. He has a huge range including olive oils from Malaga, wild flower honey from Guadalajara, Manchego cheese, dried figs, membrillo, boquerones, as well as charcuterie. He supplies restaurants and delis and is also in the SuperNatural Food Market in Pearse Street, and at Stillorgan market. facebook.com/albertosgoldoil
Hazel Byrne's Witch Hazel skincare products brought me straight back to my childhood when witch hazel was used for stings. Hazel was inspired to start making natural skincare products, having watched the TV programme Grow Your Own Drugs. "My husband bought me the book that went with the show and there was a section on making your own bath products and lip balms, so I tried that for fun and it went from there. I also trained as a massage therapist, so I am very much into natural health care. I use all pure essential oils in my products and natural colours in my soaps. The aim is to get everything as natural as possible. I'm not 100pc there but I'm working towards it." witchhazelskincare.com
Karyn Jones from Greystones sells lovely colourful ceramics, including a beautiful 'elephant' dish at €30. "When the kids go to school, I take over the kitchen table and start working. I just love the outcome, the colours, the patterns. I sell a lot on Facebook but I am in a lot of shops around the country now also." Look out for her gorgeous little tapas dishes at just €14. pottersshedcrafts.com
Andrew Friedal's ancestors emigrated from Germany to Pennsylvania in 1738 where, almost 200 years ago, his great grandfather opened a bakery. Andrew came to Ireland in 1998 and is living now in Baltinglass, Co Wicklow, where for the past year he has been producing Dutch-Pennsylvanian-style cookies, cakes and bread under the name of Country Boy Bakes. Look out for his peanut butter cookies and his banana bread. countryboybakes.ie
Apart from people with new businesses, there were also some well known very popular food producers at Kilruddery. The delightful Tom Cropp is the son of Cavan-based Silke Cropp of Corleggy Cheese, renowned as one of Ireland's pioneering cheesemakers. "What's in season now is sheep's cheese, hard and soft. Our goat and cow cheeses are very popular, as is our raw milk," Tom told me. They have a new sheep's cheese product and last year they started doing 'Cavanbert' - a soft cow's cheese. corleggycheeses.com
Munich-born Georg Heise of George's Patisserie in Slane, Co Meath, was there too with his amazing breads. "We do lots of spelt breads, rye, sourdough, no yeast, a lighter and a darker one." There was spelt, soda, health grain, Californian sourdough, olive and paprika, tomato and onion, scones, almond tarts and brioche - which Georg said is very popular. georgespatisserie.com
Also there was Aoife Cassidy of Gourmet Grub Bakery, with their wide selection of quiches, pies and dessert treats. gourmetgrubbakery.com
With summer upon us, look out too for wonderful garden benches from Iron Focus. They are based in Ashford, Co. Wicklow and also had beautiful braziers, obelisks, weather veins and so on. facebook.com/ironfocuswicklow
Last, but far from least, check out Killruddery's own section, where they sell their own produce including lamb, eggs, vegetables, apple juice, pate, granola, garden shed tools, wonderful woollens and beautiful boards crafted from woods from the Kilruddery estate. kilruddery.com