Restaurant Review - Cookbook Cafe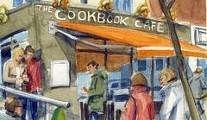 Saturday 18 April 2015
As we were having brunch in the new Cookbook Cafe in Glasthule, on a recent Saturday morning, Brendan asked: "Does anyone eat at home anymore?"
Brunch has become the hottest meal of the weekend. It's chill-out and reward time after a hard week's work, with no thoughts of having to dash for the Dart or a long commute to the office. Life is too short to cook eggs Benedict at home anyway! Also, with so many young couples with children in creches during the working week, it's also quality time with the kids.
Many places tell me that, particularly on Sundays, brunch is the great family get-together, with bigger tables being booked to include grandparents, extended family and friends. It's a more relaxed and casual affair than the traditional Sunday-roast family lunch, and recently, in town, I noticed that some restaurants with lunch menus were empty, while nearby eateries with brunch menus had queues. So, brunch is definitely where it's at!
Cookbook cafes are a new phenomenon, and chef Audrey McDonald has brought the concept here, creating a cool, neighbourhood vibe in what was the former long-time Tribes and subsequently the short-lived Le Petit Cochon. The space is like two long train carriages and, to my mind, 'First Class' is in the brighter front section. It's all been brought to life by fiery, hot Moroccan colours of deep orange and ochre yellow, blending with and adding an updated look to the popular muted French greys of recent years.
There are shelves of cookbooks available to browse, from which the menu draws its inspiration. At the time of our visit, the featured recipes centred on the 'ultra cool' chefs of the moment - Yotam Ottolenghi, Bobby Flay of Mesa Grill, Skye Gyngell, Thomasina Miers and the revered Mary Berry. The food was a mix of the Middle East meets Mexico via the US and back to the Queen of Cakes.
It's open for breakfast and lunch during the week and brunch at weekends; I am told there are plans to open for dinner at a later point.
I kicked off with a 'disgustingly healthy' sharp, cold-pressed juice of tart apple, celery, parsley, spinach, lemon, lime and ginger (€4.50). It sure woke me up, so there must be something to this health thing!
There was house-made granola, and a Skye Gyngell pancake stack with caramelised apples, toasted pecans, creme fraiche and Irish apple syrup. The Cookbook breakfast (€10.95) was the full Irish by any other name, with sourdough toast; while a classic beefburger in a soft blaa, with double cheddar, grilled onion and Bobby Flay's Mesa Grill sauce, came with fries (€12.50).
An 'Ottolenghi' grazing plate for one or two people featured chorizo, roast red peppers, burnt aubergine with sumac yoghurt, fattoush salad, buffalo mozzarella, hummus and warm flatbread at €13.50/€26. I had baked eggs, Mexican style (€10.95), which came in a little cast-iron pan. They had a chorizo base, topped with 'ranch style' sauce, Monterey Jack cheese, chilli, salsa, creme fraiche and a warm tortilla.
Brendan's 'Ottolenghi' Jerusalem chicken patties (€12.95) were delicious, chunky, seared chicken balls, incorporating grated zucchini, lemon zest and cumin seeds, served with sumac yoghurt and rocket.
We shared Parmesan and truffle fries (€4.95). With four coffees (€11.20) and service, our bill came to €49.55.
Foodie Glasthule is certainly expanding again, with newbies - including Carluccio's opening in the former Weafer & Cooper premises, and Baker Street in the former Peggy's Bakery - joining Nisheeth Tak's fab Rasam restaurant and Gerard Maguire's cracking 64 Wine Shop & Cafe. And the legend that is Peter Caviston, having bought another building on the main drag, tells me we can expect a restaurant from him there in due course.
57A Glasthule Road, Sandycove, Co Dublin