Restaurant Review - Durty Nelly's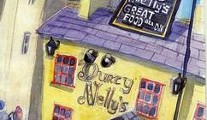 Saturday 04 April 2015
We were in Limerick recently for the launch of the Secret Garden, an innovative, covered-in, outdoor party area at the Limerick Strand Hotel. Head chef Tom Flavin and his team wowed guests with an amazing Chinese banquet, using produce from within a 50-mile radius. We sampled guinea fowl from Liz Ryan's Fowl & Foraged company in Birdhill; rare-breed pork from Rigney's Farm; Skeaghanore duck; and seafood from Doonbeg. The event culminated with a parade of ice swans, holding fortune cookies, gliding through the room.
While in the area, we had lunch in the well-known Durty Nelly's. In the shadow of Bunratty Castle, it has been a magnet for hordes of tourists down the years, for refuelling and comfort stops! We were interested to see what visitors might expect nowadays in the way of food in tourism hot-spots.
It is, no doubt, a very busy place and it seemed to operate like a well-oiled machine. I guess the same applies to tourist places all over the world - efficient, if somewhat impersonal.
When I looked for the loo, a man working there sent me in the direction he was dashing towards. I followed him, like a fool, to a back section, where I found myself almost setting a table with him.
He hadn't taken the time to tell me it was off through a side door, marked 'exit'. I wasn't alone, as I saw another bemused woman loitering at the same door to the outside. How much easier it would be for all, if they put up obvious toilet signs?
We were in the ground-floor 'olde worlde' Oyster Restaurant, made up of three or four separate sections and a bar. The all-day menu covered old-school stalwarts from starters through salads, sandwiches, paninis and main courses. In no particular order, as they say, there was soup; chicken liver pate; mussels; smoked salmon; salads of crab meat; prawn; or tuna, Caesar style. Mains (€11.90-€25.90) included fish 'n' chips; wings; Cajun chicken; burgers and steaks; plus four daily specials, including grilled hake and lamb shank.
Brendan kicked off with a half-dozen oysters (€10.90) with lemon and Tabasco. I had Atlantic seafood chowder (€6.50) with brown bread. A dreary colour, it tasted mainly of vegetables and potatoes, with a few pieces of smoked fish at the bottom - it certainly wouldn't rate in my chowder stakes. The brown bread, served in an old-style plastic-covered wicker basket, with foil butter pats, was very dry and uninteresting. I am sure they use an awful lot of bread, but with so much interest in local and seasonal food, and so many fabulous breads now available, a little more thought put into such details, and listing local suppliers, could elevate run-of-the-mill pub grub to decent gastro grub.
I had smoked salmon, crab and prawn (€14.90) with mixed leaves, peppers and Marie Rose sauce, which was fine. Brendan's Limerick bacon (€12.90) consisted of two tranches with white sauce, sitting on cabbage with plain, sliced carrots, and a big whoosh of piped mashed potato. It was the traditional Irish dinner - and there's nothing wrong with that - save he felt the mashed potato was very poor. I thought the same. It had a very light, watery texture, lacking the flavour of spuds, and an unpleasant underlying taste. Passing on puds, our bill, with a glass of sauvignon blanc (€6), a pint of Guinness (€4.75) and service (€5), came to €60.95.
By the way, the buffet-style breakfast at the Limerick Strand was ace. It had lovely breads, croissants, preserves, nuts, honeys, charcuterie, cheeses, fruits, salads and smoothies, the usual hot culprits, plus sauteed potato with onion, and a chef station delivering freshly fried eggs or omelettes.
Durty Nelly's, Bunratty, Co Clare Tel: (061) 364-861 durtynellys.ie
The Secret Garden, Limerick Strand Hotel, Ennis Road, Limerick. Tel: (061) 421-800
strandhotellimerick.ie
lucindaosullivan.com
First Published in the Sunday Independent