Clos des Papes Wine Tasting at Kelly's Resort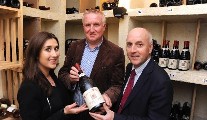 Wednesday 25 March 2015
Bread and wine are two of the great joys in life; both almost as old as time, both loved unreservedly more than ever. And now we are out of the recession, there has been a great resurgence in the opening of standalone wine shops and artisan bakeries around the country.
We were down recently in that bastion of hospitality and tremendous food and wine that is Kelly's Resort Hotel in Rosslare, where they were hosting a Spring Wine Tasting event, over four days, featuring French wine producers Vincent Avril of Clos des Papes Chateauneuf-des-Papes, and Benjamin Leroux, who is considered one of the most gifted and knowledgeable wine growers in all of the Cote d'Or.
Kelly's is an incredible place and Bill and Isabelle Kelly are now celebrating the family's 120th year in business. Bill is the fourth generation at the helm of Kelly's and last year he was joined by the fifth generation, daughter Laura.
Kelly's may be famous for its lavish food - but wine is a big passion in Bill's life, which is why, at Kelly's, you can enjoy some amazing wines at very good prices. You could actually say Bill married into the wine world, because Isabelle's family are the aforementioned Avrils of Clos de Papes in Chateauneuf-du-Pape, who have been producing wines for 120 years.
Wine is a subject that can be intimidating for many, not helped by some of the pompous bluffers and buffs who pontificate about the "smell of diesel and the whiff of cat pee" on the nose.
Indeed, the pinning down of the provenance of the wine on the older TV series of The Restaurant by resident judges Messrs Doorley and Tullio became a joke, as they constantly picked the wrong countries. This time around, with the show now being sponsored by Aldi, they don't have that task as the wines are blind tasted in advance by the celebrity chef and revealed on the show - so no more red faces!
Many years ago, I remember sitting with a self-styled 'wine expert' who happily quaffed over half a bottle of corked wine before it was drawn to his attention. Perhaps our palates vary and we all taste wines differently.
Vincent Avril was delivering the wine tasting on my visit. It was a vertical tasting (which means different vintages of the same wine) of the white Clos des Papes Chateauneuf-du-Pape, which they started producing in 1955.
Working backwards from 2013 through each alternate year to 2005, we tasted the wine at different stages. To obtain premium ripeness, the stems are completely removed from the green grapes, which are fermented for 21 days. They never touch oak, nor does any lactic acid fermentation take place. After ageing in steel tanks for six months, the wine is filtered and then bottled. It is best drunk either very young (1-4 years) or very old (10 or more years after the harvest). However, what Avril managed to do was make the whole wine-producing process so approachable, human and understandable.
Far from being up in the air about the whole thing, he told us very movingly how, from all the detailed records kept by his ancestors, he could see how each harvest fared and how they developed the wines.
He had worked very closely since he was a young man with his father, the very respected Paul Avril, who died in 2009 and is clearly much missed.
He told us of the differing parcels of land on his estate and how the soil in each parcel was different; how he had the same pickers every year who knew exactly what he wanted of them; how the grapes are picked by hand; how he is up on the tractor himself making sure the grapes are just right and transported safely back to the winery, where the estate also has its own state-of-the-art bottling plant.
Avril controls each stage of the wine production - nothing is left to chance. None of his wines ever go to a large consortium, they are all sold directly to his customers. This is a man who supplies wines to 35 countries and whose 2005 Clos des Papes red was, in 2007, voted wine of the year by the Wine Spectator. This Grenache-based wine, already a Parker favourite, joined the ranks of collectible treasures, while in 2009 his white wine reached No 10.
During the tasting, he told us how the wine aged, and how the various conditions in which it is stored could affect it. I came away convinced Monsieur Avril should have his own TV show educating people on the joys of wine.
kellys.ie clos-des-papes.fr.
First Published Sunday Independent