Our Latest Great Place To Eat - Bay Restaurant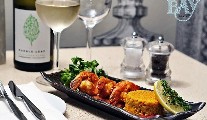 Thursday 26 March 2015
Wonderfully atmosepheric, modern and bright, Bay is exactly what a sea view restaurant should be – spacious and airy.
Head Chef Foued Belabbas has being preparing the food at Bay since the moment it joined Clontarf's restaurant scene in 2003 and he prides himself on producing a delicious, carefully chosen menu using only fresh, local ingredients. The menus themselves are quite impressive. I was there for an evening meal, but they have great breakfast, brunch and lunch menus as well which have helped make Bay a very popular daytime destination.
Foued loves to prepare fresh seafood dishes and Bay is well known for its char-grilled steaks, but they also have a very healthy ethos, serving a great selection of salads as well as other healthy options to cater for vegetarians, those with food allergies or calorie conscious people.
On my visit, starters included pistachio and orange chicken liver pate with homemade fennel seed brown, white or coeliac bread; sticky chicken wings with tangy barbeque sauce and blue cheese dip; as well as a Hereford Irish steak sandwich with red onion chutney, brie, chips and a choice of breads. I decided to try their Catalan fish stew with, my choice of, homemade fennel seed brown bread. It was heaven. Brendan opted instead for the Chermoula tiger prawns with mixed roasted peppers and lemon cous-cous in a spicy sauce, which he said were absolutely delicious.
For the mains, there was lots to choose from with tempting selections like chicken and tiger prawn linguine with tarragon and white wine sauce and sprinkled with Parmesan; chicken bang bang with sautéed oriental vegetables in a light coconut and lemongrass curry sauce with brown rice; or a baked fillet of hake with sautéed baby spinach, green beans and semi sun-dried tomatoes. Himself immediately went for a 6 oz Hereford Irish fillet steak chargrilled and served with a black pepper raisin pouring sauce and his side of choice, of an order of chips. I, on the other hand, decided to try the risotto of wild mushroom and fillet of Irish beef strips which was served with shaved Parmesan and a veal jus, which was just wonderful.
Read More: index.cfm/page/viewRestaurant/id/349