Restaurant Review - Fellini's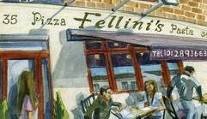 Friday 20 March 2015
Twirling my fork languorously through luscious ribbons of fettucine and popping the results of my efforts into my mouth, almost caused a When Harry Met Sally moment! There's a US TV show, Diners, Drive-Ins and Dives, and such establishments are hot as hell right now. We were in Fellini's, a new Italian eatery in a former Chinese takeaway.
Set back from the road in downtown Deansgrange, between the glamorous surroundings of the cemetery and a big garage, you could, I reckon, drive past without giving it a backward glance, but you would be missing out on Emilia Macari and Paolo Di Adamo's little gem, which will undoubtedly have 'standing-room only' in no time at all!
A big takeaway counter is still the focus of the room, behind which Chef Paolo is working away, with Emilia in charge of the floor. With a banquette along one wall and free-standing tables to the fore, it seats just 28 people and, as the place filled up, there was a lovely, intimate buzz. While the decor is simple, there are some cool touches with 'bottle lights' set into the ceiling, and really nice wine glasses, water jugs and tableware. They clearly appreciate that there is nothing like a decent glass to enhance a wine.
The menu was surprisingly extensive, with all the popular Italian favourites, and then some. It's always a good sign in ethnic restaurants if you see people of that nationality, be it Indian, Chinese or Japanese, chowing down, so it was great to see two tables of four taken up by members of the Italian community.
A dozen starters (€3.50-€10) included Caprese salad, funghi ripieni, calamari fritti and arancini, as well as the bizarre-sounding gamberetti Deansgrange! Somehow, this 'handle' doesn't quite have the glamorous foodie ring to it that prawns in garlic, olive oil and white wine deserves. Maybe a little 'Fellini' artistic licence could be applied, along the lines of gamberetti Dolce Vita, or gamberetti Anita Ekberg, in tribute to the great movie director.
Brendan's antipasto misto, at €9, was a tour de force, sporting mozzarella and pecorino cheeses, olives, bresaola, mortadella, salami, chargrilled aubergine, courgette, a stuffed mushroom and a croquette.
I had melanzane alla Parmigiana (€8) which had delicious swathes of aubergine, layered with mozzarella, Parmesan, basil and olive oil, freshly baked in tomato sauce.
There was an extensive selection of pasta (€10-€13.50) from spaghetti with fresh cherry tomatoes and prawns; through penne with salmon in a rose sauce; to ravioli al Gorgonzola. Fusilli and rigatoni are there, as is mezze maniche (similar to penne, but shorter and broader).
Risottos featured too, with prawns, or Italian sausage, saffron and onions. There are any number of pizzas from €12-€15, which stood up well at neighbouring tables. The "Secondi Piatti" selection included beef, chicken or veal dishes.
From four blackboard specials, I had the fettuccine alla Contadina (€14) - silky pasta, which was tossed with uncased Italian sausage meat, peppers, cream and courgette. It was a dish just bursting with flavour, perfect with a side order of spinach (€3.50). Brendan's 6oz filetto di Manzo (tenderloin) at €22, was wonderful. It was served with mushroom and pepper sauce, and a side order of his choice - chips.
Home-made desserts were €4.50-€5.90, including crepes with Nutella; profiteroles; banoffee; and panettone with ice-cream. Brendan had a good tranche of sinful tiramisu (€4.90), while I indulged in a cooling semifreddo al caffe (€4.50).
Service was excellent and attentive, and with a bottle of Vallerosa Bonci Viatorre Verdecchio die Castello di Jezi 2013 (€24.50) our bill with optional service came to €99.40.
I am wondering how soon I can go back without looking like I'm a pasta addict!
Fellini's,
35 Deansgrange Road, Blackrock, Co Dublin
Tel: (01) 289-3662
Facebook.com/fellinispizzapasta
lucindaosullivan.com
Sunday Independent