Our Latest Great Place To Eat - Winnie's Craft Cafe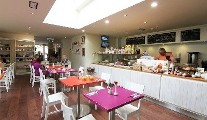 Tuesday 17 March 2015
As I took my first bite of Winnie's famous bacon and mushroom omelette, I realized the food at Winnie's was top notch.
Offering a fantastic selection for breakfasts, brunch, lunch and a world of tea and cakes throughout the day, Winnie's is a wonderful place to wile away the hours. The cafe is daytime, six days a week, and they have focused on gluten-free products, for which they found there was a big demand. "All our soups are gluten-free, we have gluten-free options on bread and cakes. A simple tasty menu is what we aim for and because I go to the markets with 'Winnie' and meet producers we try to buy from small local suppliers." Says proprietor Marina Hand, who began her business in a cute four-wheeled little van of the Postman Pat genre, converted to 'Winnie the Wool Wagon', before establishing her wonderful craft café; named for her loyal little wagon which still travels to various events and markets around the country today.
On my lunchtime visit, there were choices like Winnie's grilled goat cheese salad baked with beetroot, cherry tomatoes, fine beans and a basil and pesto dressing; a tasty sounding turkey bagel with mature cheddar, sweet chilli sauce, tomato and guacamole all served in a wholegrain bagel; or their Summer wrap served with hummus, feta cheese, Kalamata olives and Winnie's homemade dressing.
My delicious Spanish style omelette was simply fantastic with baby potatoes, onions, flat mushrooms and bacon, topped with cheese and accompanied by a fresh salad. Brendan eagerly tore into a warm chicken and bacon Caesar salad made with home cooked chicken and bacon, served on a bed of leaves with cherry tomatoes and croutons tossed together with a delicious Caesar dressing and finished with parmesan shavings.
Read More: index.cfm/page/viewRestaurant/id/348