Restaurant Review - Papillon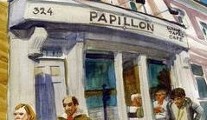 Friday 13 March 2015
Sitting in the window of the new Papillon cafe and wine bar in Clontarf, we had wonderful views looking out over the Bull Wall and Dublin Bay.
It was one of those seminal moments, when I thought how lucky we are to live in such a lovely city: by the sea, a stone's throw from the mountains, and with so much to offer by way of entertainment and dining. Sometimes we overlook what's on our doorstep! Like many a Dubliner, I learned to drive on Dollymount Strand's long, sandy stretches, when tapas was but a Spanish word!
Papillon is located in what was previously 1014 restaurant - run by the charity Casa - which closed last year. A total revamp has been done by the new owner Eric Whelan, transforming it into a very cool cafe with a New England vibe, doing daytime casual food and tapas. In the evening, it morphs into a busy bistro, over two floors, with an extensive tapas menu.
The first thing we noticed, in the light of wine prices creeping up at a rate of knots in restaurants, was that here the lead-in price by the bottle was €23.50, with all wines also available by the glass. This immediately makes it the user-friendly sort of place you would drop into casually, and very handy to have as a neighbourhood eatery.
Food prices too, were good, and included artisan cheese and charcuterie boards at €10, as well as tapas of fish or seafood, vegetarian and meat, from €6 to €10. Quite a number of these appealed to us, including confit duck with quail egg and fig puree; or crisp pork belly squares paired with carrot and parsnip puree with a balsamic reduction.
However, we kicked off cautiously with pil-pil prawns and a separate dish of Spanish meatballs to test the water. First up, was a little white skillet holding a good number of chunky prawns at €9. Served with triangles of toasted rye bread, they had a decent chilli bite and were really rather good.
The meatballs proved to be a good-sized tasty twosome of a solid beef and chorizo melange (€7), sitting in a pool of tomato ragu and topped with grated Parmesan. Very tasty.
Successful in our first foray, we dived in further and things got even better with a trio of scallops (€10) which were absolutely ace. Wrapped in bacon, they were perfectly cooked- seared on the outside with a silky, moist interior - and came with a delicious beurre blanc sauce, pea puree and pea shoots. A dish of Parmentier seafood pie was a real winner, bursting with the distinctive aroma of smoked haddock; enhanced with creamed leeks, potato and crayfish tails, and was a bargain at €8. Also value for money at €11, was a dry-aged striploin topped with poached egg and hollandaise sauce, served with chips, which my dining companion wolfed down.
Desserts at €6 included coconut creme de Catalana; Bailey's and lemon cheesecake; and a dark chocolate mousse with vanilla and pistachio sable biscuits.
Those of you with a sweet tooth will love their Cafe Gourmand dessert plate at €7.95, as you get coffee of your choice, along with bite-sized desserts of creme patissiere, chocolate mousse, chocolate fudge square and sorbet. We enjoyed, instead, a shared tranche of deliciously moist and moreish lemon polenta cake at €6 - which would look smarter without the run-of-the-mill 'dessert tart-up' of split strawberry, kumquat and whipped cream.
Brunch at weekends includes a combination of 'eggy' favourites - eggs Benedict, Florentine and Royale, all at €9, and a three-egg omelette at €8. Healthy folk will like the Greek yoghurt and honey toasted granola at €6, or cinnamon French toast at €8, with crispy pancetta, mascarpone and organic maple syrup.
With two fantastic glasses of Spanish Pionero Mundi Albarino 2013 (€7 each), bottled water (€5.80) and a double espresso (€2.10), our bill with optional service came to €79.90.
Papillon, 324 Clontarf Road, Dublin 3.Tel: (01) 805-4877. papillondublin.ie
FIRST PUBLISHED IN LIFE MAG - SUNDAY INDEPENDENT