From Kazumi to Le Gensake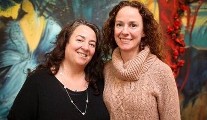 Friday 13 March 2015
Sisters Jenni Crawford and Jennie Crawford share the same Christian name, but then they are unusual women with great drive and passion for their individual fields. Jenni without an 'e' is one of the most revered names in the hairdressing world, whilst Jennie with an 'e' is a restaurateur in south-west France. Jenni is one of a trio of a top stylists at Kazumi in Molesworth Street, and has been nominated as Best Hair Stylist of the Year in the Business of Beauty Awards by Image magazine. Both are highly artistic and hardworking, a fact with which they credit their parents; their father being a musician and photographer and their mother a seamstress.
Jenni, the elder sibling, left school at 14. "My cousin, Dolores, was a hairdresser and we acted as models when she was giving classes. I was fascinated and asked her if she could get me a job. She said she couldn't get me a job, but she could get me an interview and I would have to get the job myself! I got the interview and the job with Peter Mark in North Earl Street. My real name is Marion, but there was already somebody of the same name there, so I became Jenni! On the same day, I went for two other jobs. One in a candle factory, where my mother had worked, and the other at a peanut and popcorn factory - because I love peanuts," she laughs.
Jennie went to NCAD (National College of Art & Design). "That was a proud day for my dad, as I was the first to attend college. I was studying stained glass and glass-blowing, jewellery making and I was interested in art. However, to support myself in college, I worked in bars and restaurants. So that's where the love of food came along. I met a Swedish girl whose mother had a restaurant in Clonakilty, where I learned all about smorgasbords and making sausages. She introduced me to mussels, telling me to close my eyes and try one. I put it in my mouth, there was an explosion of flavour and I said I'm never going to say no to anything again. It was 1994 and I opened a little restaurant with her called Kiki's Cabin in Clonakilty. We were growing our own vegetables and had a fisherman with a mobile phone the size of a bottle of wine. He would ring and the menu was devised from what he had caught.
Meanwhile, in Dublin, Jenni was working hard and learning in Peter Mark. "I was fascinated by the fact that I got tipped for doing a good job. It was a case of, 'wow, I can do better at this and earn more'. It was also a pride thing, seeing people wearing your hair-do and making them feel good about themselves. I was picked then to go to an exclusive Peter Mark salon which was in the Fifth Avenue Arcade where they had hand-picked very creative stylists. So I got to train with them. It was brilliant, we were looking after the fashion shows and things like that. I won my first L'Oreal award when I was 17, so I was starting to become very competitive. I then moved to Pzazz, where a lot of the stylists had trained at Vidal Sassoon."
After two years running Kiki's, Jennie came back to Dublin and worked with Fitzer's Catering, and also added another string to her bow by studying CAD (computer-aided design). "In 1998, I fell in love with a Frenchman… French food and the offer of adventure! We went to Sant-Emilion - food, wine, chateaux, Charles Aznavour - I had stars in my eyes! We then tried to open a restaurant in Dublin but got turned down by the banks, so we went to Los Angeles for two years where I worked in both a Mexican and a French-Moroccan restaurant. We then got married in Las Vegas and moved on to Martinique for six months and learned all about the spicy French food there. The French don't normally like spicy food, but in Martinique they do. They steep chillis in vinegar and add it to the side to their dishes. After a while Jennie got pregnant with her son Zak and the couple headed back to Saint-Emilion, where they then worked at the Chateau de Sanse in Gensac for the next 10 years.
Meanwhile, back in Dublin in 1995, Jenni had joined Mark McAuley and Bryan Murphy, to open Kazumi in Anne's Lane, which then moved to a Georgian building on Molesworth Street with a wonderful bow window. "I always wanted to work somewhere with a Georgian door," Jenni laughs. "I had seen salons like that in London and for me it spelled success. I continued to do all the fashion and TV stuff but my main thing was to be an educator like cousin Dolores. Over the years, I have been involved in how to dress hair, the classic from the core, rather than 'in and out, freak it out'. So, working closely with designers, who tailor everything to the body, I try to do the same with hair. It's about the simplicity of the person, their hair. In recent years, like chefs, hairdressers were being turned into rock stars. They were turning up wearing beads and crosses, riding Harley Davidsons; really out there, and the whole essence of the hair was being forgotten. The 'personality' was being created and I was saying 'just do good hair' and let the hair be the crowning glory of who they are, rather than 'I just want to do this -it's on trend'. It was like the 1980's, not all of the haircuts were bad, they were just being done on the wrong people. Mark, Bryan and I are all different types of hairdressers, but we are a trilogy, we have a balance, we all love hair. If I'm competing, I create a story in my head to go out there."
Unfortunately, Jennie's marriage didn't work out, the couple divorced in 2008, and Jennie with two children Zak (12) and Mia (10) decided she wanted to do something for herself again. She opened her own restaurant, Le Gensake in Gensac, close to Sant-Emilion. Love bloomed again when Jennie met her partner Gautier, in 2012, who is front of house in the restaurant. "The food is wonderful local farm produce - rabbit, chicken and guinea fowl, duck and foie gras. There is a definite summer season, and I have to be a bit of a chameleon in winter, catering for locals and ex-pats living in the area. We do the Irish breakfast Gensake-style and I do themed evenings. I work very hard, but it's mine." So, if you're heading to France this summer, drop by Jennie's!
Facebook.com/legensake. restaurant; kazumihair.ie
First Published IRISH LIFE in Sunday Independent