RESTAURANT REVIEW - FOREST AVENUE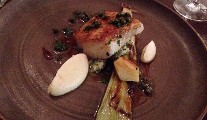 Tuesday 26 November 2013
There is a stark Nordic 'Wallander' feel to the new Forest Avenue restaurant, accented by a floor to ceiling glass frontage, offering vistas of acres of sky. A faux white stags head hangs on an urban grey wall, as a cute little 'antlers' light fitting sits above dark brown wood floors and tabletops. White brick painted walls complete the urban industrial look. To the rear is the open kitchen where chef patron John Wyer and his team are hands on both behind the counter and Noma style on the floor bringing forth and explaining food elements on the plate.
Forest Avenue is the venture of John and Sandy Wyer who have both been around the high end Dublin restaurant scene for some time, and previously at Mulberry Garden in Donnybrook. Described as a "neighbourhood diningroom", it is called after Sandy's home street in New York. Perhaps this home town touch also accounts for the moniker of their "Residents Menu" which offers two or three courses at €27/€33 on Wednesday and Thursday evenings - running alongside their regular 5 course Tasting Menu at €48.
Both menus offer a choice of two dishes in each course - which some will find limiting - particularly if you don't fancy either of the options. Indeed it's probably not very cool to say it – but I see it as the contemporary take on a Table d'hote menu. I have had John Wyer's food before. He is an excellent innovative chef and what you are looking at in his new eatery is very much on the contemporary Nordic vein, with eclectic twists thrown in. The thought behind the tableware and little details is quite exceptional.
My friend Kate Browne found it very handy to nip down along the Grand Canal in a taxi to meet me on a Wednesday evening and become a D4 'resident' for the duration of our dinner. We were both feeling peckish and tucked voraciously into delicious warm potato bread with marrowbone butter. This was followed up with an amuse bouche of two mini bun burgers style 'sable of Gabriel's cheese' – silky mouthfuls with whipped ricotta and beetroot. Kate's starter per se of white bean soup looked dramatic in a wide black pottery pasta bowl: the rich earthy liquid creaminess highlighted by the blackness of the forest mushrooms and splashes of green being totally effective. Wyer then delivered the side element to this dish, a mouthwatering 'rissole' of ox tongue hash on horseradish served on a rough slate. Tartar of seatrout for me also looked stunning in its glistening sleek simplicity, set in its deep dark dish, combining finely chopped apple, cucumber and fennel, sprinkled with miso and dashi.
Kate followed up with chicken with carrots and cabbage, but it was not the way you might think of it. Each element, the chicken complete with wing bone for effect, was cut into chunks and seared to a golden caramelized brown, resulting in a stark sophisticated presentation encompassing rich succulent flavours. My goodly chunk of cod, seared to a golden brown on the outside, retained its milky white center and was nonchalantly perched on one long prostrate leek, scattered with piquant capers and brown butter, set off with quenelles of fine fine cauliflower puree.
Pumpkin cake and cheese were the dessert options. We shared one of each. Naturally, you and I are thinking of a slice of 'pumpkin cake' but forget all of that. This was as if you stood your child on a chair and got him to crumble the pumpkin cake onto a plate below. You then get golden raisins and scatter intermittently, completing the picture with blobs of coffee cream, and plop on a soft ball of salted walnut ice cream. I loved it. It looked cool, tasted great and a dog with a hammer could do it. My dessert problems are sorted for life – this will be it – and I will be on trend! Equally cool was sublime Corleggy 'Cavanbert' cheese with walnut toast, apple slices, and a little pouring jug of Rathcooney Apiaries Glanmire honey.
With a bottle of Falerio Pecorino Passerina (€27) and two coffees (€5) our bill with optional service came to €108.00.
Can't wait to try FA's Sunday Brunch……...
Forest Avenue,
8 Sussex Terrace,
Dublin. 4.
Tel: (01) 667-8337
FIRST PUBLISHED IN THE SUNDAY INDEPENDENT