Restaurant Review - La Dolce Vita/Village Bistro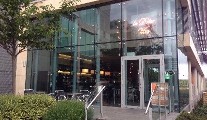 Friday 16 August 2013
Early Bird and Value Menus are the midweek mainstay of many restaurants, so it is in a restaurant's own interests to make them as inviting as possible. We took in a few recently, during the lovely summer evenings.
La Dolce Vita - an Italian restaurant, which was previously in Sandyford Village - is now in a new contemporary premises, complete with an outdoor terrace, in the Sandyford Industrial Estate. We were attracted by their 2 course Early Bird menu with tea or coffee at €17.95. It also had the option of a la carte dishes carrying small supplements. Sir is not the biggest pasta, pizza or salad fan, but he was under orders , not to veer off the strict EB - on which all of the mains were pasta, pizza or salad based. However, hold the front page, he enjoyed it!
To kick off, he had Bruschetta alla Romana - chopped fresh tomato, red onion, garlic and olive oil, whilst I had a contemporary square plate of Greek salad, which had all the bells and whistles of mixed leaves, peppers, tomato, black olives, cucumber and cubes of Feta cheese. Penne Arrabbiata seemed a safe dish for Brendan – no coping with straggling pasta . It proved a very decent bowl with perfectly cooked Penne, pan fried chicken, red onions and mixed peppers, in a tomato and basil sauce with a good spicy kick, and perked up with a brace of ciabatta 'ears' . My Fettuccini Pollo al Funghi likewise sported plenty of chicken slices and mushrooms in a tasty creamy Parmesan and white sauce. There was nothing mean here: they left the Parmesan to us and didn't whisk it away immediately. Passing on puds and moving straight to coffee, we were impressed by the fact that there was no cheap skating – it was really decent coffee plus a brace each of biscuits and mints to finish off. With a 500ml carafe of House Chilean Urmeneta Cabernet Sauvignon (€16.50) our bill with service came to €57.40. I could see us here again and it is good to know that the Early Bird runs from 3pm – 7.30pm Sunday – Thursday and from 3 p.m. – 7 p.m. on Friday and Saturday.
The new Village Bistro in Blackrock, Co. Dublin, is part of Tonic pub, but has its own frontage. The décor is simple but the menu offers good value decent unfussy food, and the welcome and service was warm and inviting. Their Early Bird from 5pm – 7pm offered 2 courses from the regular menu with a glass of wine at €22; some dishes carry small supplements. After 7 p.m. you can have 2/3 courses at €25/€29 - also with the glass of vino.
Starters included a special of crab croquettes ; and chicken liver parfait with toasted brioche and apple and fig chutney. Portobello mushrooms proved tasty and unctuous mélange, involving mixed leaves, topped with spinach, tomato and feta cream, whilst Sir was happy with his trio of seared meaty chicken satay skewers. <ep>
Main courses included lamb shank with creamed mash potato, and pave of salmon with rosti potato. Barbary duck breast (€2 supp) drizzled with an orange and Balsamic glaze, was well seared on the outside and pink in the middle, served with carrot puree, crisp asparagus spears, and copious thyme roasted 'baby' potatoes. Sir's sirloin steak (€4 supp) topped with big battered tasty onion rings, and lovely fries also did the job.
Puds were modestly priced at €6.50. We shared an Eton mess in a big sundae glass; it had a chocolate straw, lime, raspberries and mint. With a glass of Emina Rueda (€6.50) as part of my early bird, and two glasses of Siete Cuchillos Malbec/Cabernet Sauvignon (€6.50) for Sir, our total bill came to €62.50.
Go catch the Early Birds!
La Dolce Vita,
The Chase,
Carmanhall Road,
Sandyford Industrial Estate,
Dublin. 18.
Tel: (01) 294-6903
The Village Bistro,
5 Temple Road,
Blackrock,
Co. Dublin.
Tel: (01) 210-3773
FIRST PUBLISHED IN THE SUNDAY INDEPENDENT