Our Latest Great Place To Eat - Harbor House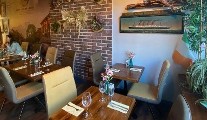 Monday 29 August 2022
I was passing through Dun Laoghaire with 'the fashionista' on a particularly fine Sunday evening, when I spotted the grey fronted Harbor House with its small clapper board out on the pavement. It caught my eye, because it's a new Chinese Restaurant, situated almost where, many years ago, there was the Lotus House, a very smart upmarket Chinese Restaurant, which had been owned by the parents of Kevin Hui who nowadays has one of Ireland's best restaurants, the fabulous China Sichuan in Sandyford.
We pushed the door open gingerly and immediately the vibes were good. A smiling meeter greeter rushed forward, as other smiling faces, including Chef Tony Shi, were behind the counter of what was a very fine kitchen. Add to that, beside a bowl of fresh flowers on the counter, another little blackboard proclaiming 'Chef Special – Fresh Irish Lobster; Monkfish.' We couldn't sit down fast enough, as we quickly ordered a bottle of Marius Peyol 2021 rosé with the typical delicious pale blush pink Provence, and were quickly brought a tasty glazed chicken wings and prawn crackers.
Seating about 28 people comfortably, this is not a restaurant with 1-300 iterations of Chinese dishes. It is what they describe as Cantonese Fusion with a menu inspired by Cantonese cuisine from Sai Kung, a quaint fishing village situated on the peninsula in Hong Kong. They buy their produce locally from suppliers they trust to ensure they are always cooking with the freshest ingredients possible and, with dishes from South East Asia and mainland China, their mantra is to cook simple dishes, full of flavour, seasoned with soy, sugar and ginger.