Restaurant Review - Monto Cafe Restaurant & Steakhouse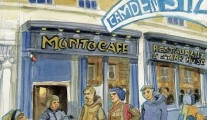 Wednesday 09 March 2016
My intention had been to visit a new restaurant within a stone's throw of Dublin's hot dining destination, Camden Street, into which new restaurants are pouring weekly. However, seeing online that
they were charging €27 for an
8oz striploin, my ardour cooled somewhat, particularly when I also saw that three minutes away we could have a 10oz striploin with all the trimmings for €18.95 or a fillet at €21.95, on top of which we could bring our own wine with no corkage charge.
Lately, on the dining scene, we're lurching between a hipster posh-burger world and lumbersexuals with carefully tweaked beards, undercut hair and black v-neck tees.
I'm not saying the food isn't good in some of these new eateries, but it's beginning to feel like the 'tall food' era. There's a terrible sameness in what I am seeing with very pretty 'pictures' on plates of forest floors, shavings of radish, ribbons and pretty flowers . . . often tasting of not a lot. I'm not sure either that I'm into expensive pop-ups convened for foodie phonies to 'ooh' and 'aah' at cheap cuts, no matter how artfully presented.
Sometimes, in fact a lot of times, you just want decent food without all the palaver.
And so, we headed to Camden Street's newest, Monto Cafe Restaurant & Steakhouse. The place was packed, it was a yuccie free zone, with only one hipster haircut! Sitting beside a well- known former politician tucking into a fillet steak and quaffing a bottle of Bordeaux, I asked, "Was the steak good?". "It was", he replied, quickly donning his coat!
Monto has been doing Italian food on Sundrive Road in Crumlin for 10 years. this new branch reflects its Egyptian ownership with attractive sandstone coloured brick walls, exotic murals and a blue-sky ceiling. From the starters (€5.45-€6.95) we had gamberi
all' olio and spicy beef, both at €6.95. The tiger prawns, tossed in chilli and garlic, were with slivers of peppers, courgette and lemon butter sauce, while tender strips of spicy beef with chilli, olives and onion in a tomato sauce were really tasty.
The mains selection was extensive, with pastas and chicken dishes from €11.95. Their 10oz beefburger with trimmings was €11.95, as was fish and chips, while steak au poivre was €19.95 and Surf 'n' Turf of a 10oz striploin with tiger prawns was €23.95.
Paul had a threesome of very tender grilled Wicklow lamb chops (€16.95) with a minty mustard sauce and a side of chips (€3.50), while I had a seafood mixed grill (€17.95) sporting little rectangles of salmon and hake, along with prawns, mussels and calamari, served with crushed potato and grilled asparagus. No complaints. We also had a 'Super Healthy Salad' (€8.95) to see if it was as good as it sounded. With quinoa, avocado salsa, butter beans, artichoke hearts and red peppers, tossed in green salad, it was truly 'super'.
Paul followed up with Eton Mess with fresh strawberries (€4.50), and with our bottle of Cotes de Gascogne Louis de Camponac Sauvignon Blanc 2014 (€8.40) — which we picked up in Tesco across the road — and a tip for our waitress, our bill came to €81.15. The only weak point was the totally charmless maitre d' who didn't smile all evening or look us in the eye. I found it hard to attract his attention — quite loudly in the end — for a fork and, on leaving, we might as well have just been walking out of a railway station — which was rather a shame.
Monto Cafe Restaurant & Steakhouse,

8/9 Camden Street,
Dublin 2.
Tel: (01) 475-0099
Check out 'Monto Camden' on facebook.com
lucindaosullivan.com
First published in the Sunday Independent