Restaurant Review - Union Cafe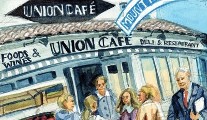 Wednesday 10 February 2016
I'll have the scampi," said Brendan, quicker than Jack Rabbit, in the new Union Cafe in Stillorgan. He was never a scampi man, so my nose was out of joint, as he'd nabbed my go-to choice. Seeing my none-too-subtle scowl, he backed off and switched to a crab salad. However, justice prevailed as, 20 minutes later, I was wishing I'd left it to him!
It's hard to keep up with the 
rash of new eateries being opened
in Dublin by the 'big boys'. Only three weeks ago, I reviewed the
 new Angelina's on Percy Place, 
from the same McKillen Press Up Entertainment Group of some 20-odd hostelries. But interestingly, having previously concentrated 
on D1 and 2, they have crept out 
to D4 and now to the serious SoCoDu 'burbs'. What they have created in the former Kiely's pub in Mount Merrion is neighbourhood destination dining, with a touch of the 'Avoca',
 as it has a small deli-cum-wine shop — from which you can get, among other things, rotisserie-chicken take-out — and lots of outdoor seating. They have also incorporated a great old-style saloon bar, Kennedy's,
filled with atmosphere — including an open fire, which will please the young bucks and old buckaroos in equal measure.
There's one thing the Press Up Entertainment Group do really well, and that's the decor. The cafe is a super big room, broken up really well into hideaway nooks, spaced around a central bar. The paintwork is faded-Hamptons, with a suitably raw industrial ceiling, parquet flooring and comfortable banquette areas. Open from breakfast through lunch and dinner, we were there with our son, Aidan, for the weekend brunch. The menu was fairly concise, offering, along with Greek yoghurt, fruit and granola parfait (€6.50); scones and pastries (€3.95); a brace of straightforward hot breakfast items(€8.50-€10.95); a breakfast roll (€6.95); and bacon and eggs (€8.95).
Mains (€14.95-€15.95) sported a Dexter beef burger; rotisserie slow-roasted half-chicken; plus Dundrum Bay crab salad; and hake scampi and chips. Aidan's bacon and egg dish (€8.95) was very good. It came in a pasta-style bowl, with nicely crisped bacon, scrambled eggs,
vine tomatoes and Parmentier-style potato, all of which he washed down with a pot of tea (€3).
Brendan's salad of Dundrum Bay crab (€15.95) was really good with
a tian of mixed crab meat on brown bread and enough dressed, ribboned and shredded carrots, cucumber, fennel and mixed leaves, to satisfy any healthy kale munchers. The crab was quite spicy, which he liked, and there was also a little dish of chilli shrimp butter. He had a side of tasty chilli Parmesan fries (€3.95).
Had I ordered fish and chips, what appeared on my plate would have come under the 'OK, but not great' category, but as 'scampi', under any guise, it was a total misnomer. Proper scampi are feather-light, battered Dublin Bay prawns, which are expensive. In times past, when monkfish was cheap, it was used as
 a prawn substitute, having a good, textured, meaty bite, but now that fish is very expensive too.
I was fine, at the price, with the idea of hake scampi (€14.95), but what arrived were three heavily battered and browned, fat 'sausages' sitting on a dish of good skinny fries, with a little copper pot of bitter pea puree, lemon and tartare sauce. Rethink it, lads!
"Something Sweet" at €6.95 offered doughnuts; panna cotta; tarte aux citron; and a cheeseboard, on which we passed.
With a glass of Premiere Cuvee Provence 2012 (€6.80) from Paddy McKillen's Chateau La Coste, and
a bottle of water (€2.50) for me,
 our bill, with optional service, came to €62.10.
It's a great addition to the area, and will be hugely popular.
Union Cafe,

68 Deerpark Road,
Mount Merrion,
Co Dublin.

Tel: (01) 210-8122
unioncafe.ie
lucindaosullivan.com
First Published in The Sunday Independent